By Robbie Dingeman
Advertiser City Hall Writer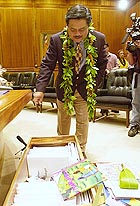 Gov. Ben Cayetano peeks into the millennium pahu, or time capsule, which was loaded with various pieces of memorabilia. The capsule will remain sealed until the year 2025.

Richard Ambo • The Honolulu Advertiser

The state closed its official Hawai'i Millennium Commission festivities by preparing books, the "Home in the Islands" CD, newspapers and various memorabilia to be placed into a pahu, or time capsule, commemorating the year 2000.

Yesterday, Gov. Ben Cayetano was joined by his predecessor, former Gov. John Waihe'e in thanking the people and companies who helped plan various events. The koa chest will be kept in the governor's office, with plans to open it in the year 2025.

Cayetano said he will be 86 that year and plans to attend.

The commission got off to a late start but Cayetano said he thought organizers did a good job despite the delay. Waihe'e said $250,000 of the $1 million spent by the commission went to administration, while the rest went to programs and grants.

The commission also developed "Ke Au Hou," Hawai'i's Youth Millennium Fund, an endowed fund established in partnership with Hawai'i Community Foundation to support young people's community-based initiatives.