By Rod Ohira
Advertiser Staff Writer
Helena's Hawaiian Food at 1364 North King St. is no more, but the 83-year-old owner of the popular hole-in-the-wall lunch and dinner stop in Kalihi isn't ready to hang up her apron just yet.
Craig Katsuyoshi showed up at Helena's restaurant yesterday to take care of unfinished business.

Richard Ambo • The Honolulu Advertiser

"I don't plan to retire as long as my health is good and I can do the work," Helen Chock said.

But she said any start-over venture for the 55-year-old business, which lost its lease and closed Friday, would have to be generated by her grandson, Craig Katsuyoshi.

"It depends on him, and he's worked with me for a while," noted Chock, who checked into Kuakini Medical Center after feeling ill Sunday.

"Nothing serious, I'm just a little fatigued," she said from her hospital room yesterday.

Helena's was one of many small businesses in the now-deserted Kwock Hin Ltd. building across the street from the Kalihi Pumping Station on Waiakamilo Road.

Over the decades, Helena's drew many for its authentic Hawaiian fare.

"Their aki (calf's liver) was the best I ever ate," said customer John Naeole. "And the kalua pig was more juicy and moist than any place else."

Katsuyoshi, 33, whose mother is the eldest of Chock's three children and who assisted his grandmother with the cooking, said there were no secret recipes or special preparation.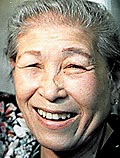 Helen Chock, 83, ran Helena's Hawaiian Food on North King Street for 55 years.

"She used to have an imu in back," Katsuyoshi said. "But for a long time, we've been buying our kalua pig from Tam's.

"We make everything, like the short-rib pipikaula."

Katsuyoshi, who attended 'Iolani School and the University of Southern California, worked at the restaurant from 1990 to 1997 before taking a break. But Chock never did.

"My grandmother is a workaholic, and I feel she should continue working as long as she feels she can," said Katsuyoshi, who recently returned to help his grandmother with her business.

"The only way we can do it," Katsuyoshi said of re-opening Helena's, "is if we do it together."

Katsuyoshi would like to keep the business in Kalihi, but make it more efficient somehow without losing the experience his grandmother brings to the table.

"It's a small business," Katsuyoshi said of Helena's. "But in the end, it was more like a hobby for my grandmother because she needs to work.

"She made enough to get by for 55 years. That alone is a feat in itself."

Although Helena's closed its doors for the last time on Friday, some customers had not received the news and showed up yesterday.

"We didn't know," said Rena Naeole, who drove in from Waimanalo with her father, John, for a Hawaiian plate lunch. "Are they going to reopen? If not, we got to find someplace else."

The existing concrete tile and wood Kwock Hin building, which will be demolished soon by landowner Kamehameha Schools Trust, was constructed in 1952 to replace the original wooden structure built in 1920. Kwock was Chock's father.

"We lived in back (of the original building) among Hawaiians," Chock recalled. "I love Hawaiian food and that's how I learned to do it."

Many of the shops in the second building were businesses started by Kwock's children.

The late Danny Kwock, Chock's brother, opened a restaurant but lost interest in the venture after six months. On the advice of her mother, Chock took over the business.

"Kamehameha Schools has been good to me," said Chock, who'll be 84 in July. "And I can still do the work."