By Brandon Masuoka
and Ronna Bolante
Advertiser Staff Writers
Two recent high-rise fires have rekindled the debate between Honolulu fire officials and building owners in retrofitting sprinklers in 347 high-rise O'ahu buildings.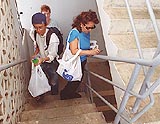 Residents and visitors to the 21-floor Ala Wai Townhouse are taking the stairs after a fire Sunday damaged the elevators. Rita Moore, left, lives on the 16th floor while Kei Nagakubo, left, is in a penthouse unit.

Deborah Booker • The Honolulu Advertiser

Honolulu Fire Chief Attilio Leonardi yesterday said sprinklers would have limited damage in the high-rise fires Sunday in Waikiki and yesterday in Makiki.

No one was hurt in the fires that caused an estimated total of more than $260,000 in damages.

On Sunday, an arsonist burned an elevator and forced dozens of residents at the 21-floor Ala Wai Townhouse, 2421 Ala Wai Blvd., to use the stairs, fire officials said. Yesterday, a possible electrical fire damaged a 14th-floor unit at the 16-floor Prospect Tower, 927 Prospect St., and also damaged two floors above the unit, the officials said.

"We're getting a lot of warning signs," Leonardi said. "Without sprinklers, you can expect high-dollar loss and a high loss of life. We've seen this throughout the world with different high-rise fires. A lot of cities are going for retrofit bills to get buildings (sprinklers)."

Sprinklers became a debated issue following the Interstate Building fire that caused an estimated $10 million in damage on April 1. The Interstate Building was built before the 1975 law that required sprinklers in buildings taller that 75 feet.

After the Interstate fire, two bills were introduced in the City Council that would require sprinklers in older high-rise commercial buildings on O'ahu. No measure has been approved.

According to city officials, O'ahu has 347 high-rise buildings without sprinkler systems.

Leonardi said sprinkler installation estimates range from $2.50 to $5 per square foot, but added the costs would likely decrease with competition between sprinkler companies.

City Council Chairman Jon Yoshimura said a city task force will look into the issue of retrofitting sprinklers in high-rise buildings. Yoshimura said he got a close view of yesterday's Makiki fire from his own condominium.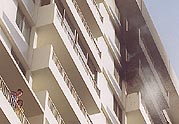 Water sprays out of a 14th-floor unit of Prospect Towers while residents below watch from their lanai.

Eugene Tanner • The Honolulu Advertiser

"As a condo dweller, it reminds all of us that we need to be prepared for this kind of thing," Yoshimura said. "As far as legislation goes, we are taking steps to reconvene the task force to continue the discussion that we started a year ago, and it's not just because of what happened (yesterday)."

Both condominium and business owners have concerns about retro-fitting costs, but business owners can pay less for fire insurance by installing sprinklers, Yoshimura said.

He said the fire department has suggested that sprinkers be installed over a 10 to 15-years so condo owners can save up, he said.

Jane Sugimura, president of the Hawaii Council of Associations of Apartment Owners, said the high cost of installing sprinkler systems would hurt apartment owners.

"The major concern is the cost," said Sugimura, who represents more than 100 apartment associations. "It should be up to the individual buildings. Each building has to be able to decide for themselves."

Sugimura also said it would be tough to enforce the bill the way it's written and the association has no authority to go into each unit and monitor compliance.

"It's a huge expense," she said.. "If there's some way to get it done cheaper, people would be flocking to get it done."