By Curtis Lum
Advertiser Staff Writer
Mitsuko Akimoto never allowed life to pass her by.
Even when she reached 80, she kept herself busy by sewing, cooking and teaching classes to senior citizens. In her spare time she did volunteer work.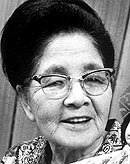 Akimoto was honored for her work with the American Lung Association.

Advertiser library photo • 1976

In a 1976 Advertiser interview, Akimoto, then 80, said she felt sorry for old people who spent their time on mall benches. "I can't stand wasting precious time," she said.

A former picture bride who went on to become an award-winning volunteer with the American Lung Association and American Red Cross, Akimoto died Feb. 2 in Honolulu. She was 104.

"She always felt very strongly committed to volunteer work because it was some way she could return something," said her daughter, Fumi Schmidt.

"She always felt that that was the way she wanted to go, because she felt she had had a pretty good life here and she had become her own person here and wanted to pay back."

Akimoto was born in a small town just outside Hiroshima, Japan, in 1896. In 1913 she was sent to Hawai'i to marry plantation worker Eiji Akimoto.

She worked as a maid while raising five children. At one point, Eiji considered moving back to Japan, but Mitsuko put a stop to it. "She decided it wasn't for her, and made a very feminist move," Schmidt said.

Akimoto began her volunteer work in the early 1960s. She spent many hours stuffing envelopes at the American Lung Association and Red Cross. In 1980 she was honored in Washington, D.C., for her work with the Lung Association.

Retired American Lung Association supervisor Mildred Masuda said Akimoto worked in different departments and always kept herself busy. "She did her work diligently without any hesitation. She really enjoyed what she was doing."

Akimoto was forced to stop her busy schedule when she suffered a stroke 10 years ago.

Besides Schmidt, she is survived by sons Ralph and Daniel; daughter Jeannette; eight grandchildren; nine great-grandchildren; and one great-great-grandchild.

Visitation is from 10:30 to 11 a.m. Monday at Diamond Head Mortuary; service is at 11 a.m. Inurnment at 12:45 at Diamond Head Memorial Park.