By Walter Wright
Advertiser Staff Writer
The yearlong search for a former Hawai'i child whose partial remains were identified in California on Saturday now has become a search for answers about how she died, members of her hanai family said yesterday.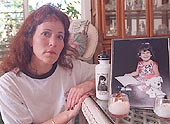 Kai Mathiesen of Kailua is the godmother of Xiana La-Shay Kapuali'i Fairchild, a 7-year-old whose remains were found in California. The search for Xiana is over, but her hanai family wants to know how she died.

Eugene Tanner • The Honolulu Advertiser

"I don't feel one ounce of closure," said Sisto Domingo, hanai great-uncle of 7-year-old Xiana La-Shay Kapuali'i Fairchild.

And although the family hopes to have a memorial service for Xiana here later this week, they said yesterday they will not rest until they know what happened to her.

"Your first reaction is not, 'Oh, I am so relieved that my little baby girl was killed,' " said Xiana's godmother, Kai Mathiesen of Kailua.

"It is important for me to know what happened to her, and what she experienced," said Mathiesen, a Catholic Charities social worker. "I want to know if she was dismembered, or if, as my father-in-law suggested, she was left in a shallow grave and animals got to the body.

"Yeah, I want to know," Mathiesen said. "I don't want some sicko to have pieces of our child."

California authorities on Saturday announced that the child's skull found last month in mountains near San Jose is that of 7-year-old Fairchild. DNA tests confirmed the identity.

The skull was found in the Santa Cruz Mountains on Jan. 19.

"Since December 1999 we've been trying to find out what happened to Xiana Fairchild," Vallejo Police Chief Robert Nichelini said Saturday. "Now, today, unfortunately we know."

Xiana was born in a Nevada prison to Antoinette Anderson. Anderson asked Lita Domingo of Honolulu to raise the child, as Domingo had raised both Anderson and Anderson's mother, Mathiesen said.

When Xiana came to Hawai'i, Domingo and Domingo's daughter, Stephanie Kahalekule, and son, Sisto Domingo, raised her, often with the help of Mathiesen, a close friend of Kahalekule.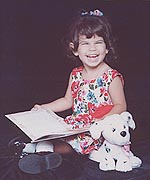 Xiana La-Shay Kapuali'i Fairchild disappeared six months after being returned to her birth mother, Antoinette Anderson, in ealry 1999 in Vallejo, Calif.

Lita Domingo took Xiana with her when she moved to Colorado Springs, Colo., three years ago. When biological mother Anderson assured Lita Domingo that she had reformed and recovered and could provide a good home, Lita Domingo returned Xiana to Anderson in Vallejo, Calif. Six months later, in June 1999, the child disappeared.

Xiana's mother reported her daughter missing on Dec. 19, 1999. Anderson's boyfriend, Robert Turnbough, told police he had left the girl at a bus stop, but later changed his story to say she walked alone to catch the bus.

Vallejo police never labeled Turnbough a suspect, but did say he had been under "a cloud of suspicion" because of his conflicting tales.

A federal grand jury questioned both Turnbough and Anderson six times last year, but those proceedings did not result in an indictment.

Mathiesen yesterday urged every citizen to take action if they believe any child may be in danger.

Only after Xiana disappeared did neighbors come forward to say that Xiana was often locked out of her mother's Vallejo apartment, Mathiesen said.

It was then, too, Mathiesen said, that officials learned that Xiana frequently had become lost when she had to walk to school by herself.

Sisto Domingo said yesterday police are searching for more of the child's remains, and that they will coordinate efforts by family members and other volunteers to continue the search indefinitely if they choose to.

The Xiana Fairchild Foundation, at P.O. Box 9266, Vallejo, CA 94591, will continue to accept donations, which now will be used to try to solve the mystery of her death, Sisto Domingo said.

The family had held out hope to the end, and the identification of Xiana was "devastating," Sisto Domingo, a Channel 8 KHNL News cameraman, said yesterday.

"Especially a beautiful little girl like that," he said.

The Associated Press contributed to this report.