Police reports on the Oct. 7, 2000 accident
By William Cole
Advertiser Staff Writer
Former Honolulu police officer Clyde Arakawa may be charged with reckless manslaughter in the car crash last October that killed a young woman, because he knew he had an "unexpected reaction" to alcohol and had blacked out in an incident in 1992, the city prosecutor's office said in court papers.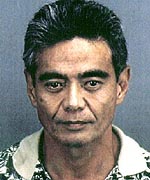 Prosecutors said former police officer Clyde Arakawa had a reaction to alcohol that caused him to black out in 1992.

Advertiser library photo

The prosecutor's office said Arakawa knew or should have known how alcohol might affect his driving, based on that contention. Arakawa's car slammed into a Honda Civic driven by 19-year-old Dana Ambrose last Oct. 7 at the intersection of Pali Highway and School Street, killing Ambrose.

More than seven hours after the collision, Arakawa's blood-alcohol level was measured at .06, authorities said. A driver with a .08 blood-alcohol level is considered legally drunk.

Arakawa, who was off duty at the time of the crash, was arrested on suspicion of driving under the influence of alcohol and first-degree negligent homicide. He has not been charged and was released pending further investigation. He has since retired from the department.

Honolulu Prosecutor Peter Carlisle said in a court memorandum filed Jan. 29 that as a result of the investigation Arakawa, 49, of Kailua, might be charged with the more serious offense of reckless manslaughter, which requires the state to prove "conscious disregard" of the risks of conduct that causes a death. Conviction carries a maximum 20-year prison term. First-degree negligent homicide carries a maximum 10-year term.

"Defendant's prior criminal conduct evidences his awareness of those risks," Carlisle said in the memorandum, which seeks Arakawa's probation records from a 1992 criminal case to determine what counseling and information he received about using alcohol.

Arakawa was found guilty of criminal trespass in that case, according to court papers. Discovered "drunk, abusive, demanding to be left alone and swearing" in a Kailua home on Nov. 30, 1992, Arakawa's blood alcohol level was determined to be .207, Carlisle said in the memo.

At sentencing, Walter Horie, Arakawa's attorney at the time, said the trespass was "not one of those things where he simply drank himself into a stupor and did something stupid," according to the transcript of the court case. Rather, it was an "unexpected reaction" to the alcohol that caused the blackout. Horie also said the Kailua incident was "situational — something that was not expected," and there had "never been any evidence of this before."

Michael Ostendorp, Arakawa's current attorney, called Carlisle's memorandum a misguided attempt to sway the public. Carlisle notes that David Yoshida, who reconstructed the Oct. 7 crash, determined Arakawa had been driving between 57 mph and 59 mph in a 25 mph zone. Witnesses also indicated Arakawa had run a red light, he said.

But Ostendorp said the prosecutor is presenting "half-truths." Witnesses reported seeing Ambrose speeding and running a red light, Ostendorp said. "Where is the representation of that (in Carlisle's account)?" he said.

As for the 1992 "unexpected reaction" to alcohol, Ostendorp said he's not sure what type of alcoholic drink was involved.

"We don't know what the circumstances were back then," he said. "If a guy drinks Coors light all his life and now you have somebody slipping a mickey into his drink or whatever — you don't know what's happening." The attorney for Dana Ambrose's parents, who are suing Arakawa and two restaurants they claim served him alcohol, also is seeking Arakawa's probation records related to the 1992 case.

Richard Fried Jr., who is representing the family, said Arakawa's earlier contention that he had some sort of adverse reaction to alcohol now "makes what is a strong case (against him) in my opinion even stronger."

Fried yesterday said his accident reconstructionist, whom he declined to identify, concluded that Ambrose had a green light and Arakawa had a red light at the time of the crash.

A hearing over the subpoenaed probation records in Arakawa's trespass case is scheduled for Feb. 21. Lawyers working on behalf of the state Adult Probation Division are seeking to quash the subpoena, claiming the records are confidential. The subpoena seeks "any and all documents" submitted in the 1992 case.