By Dennis Anderson
Advertiser Staff Writer
Mililani dominated throughout but had to go to a shootout to defeat Pearl City, 2-1, last night to reach the Meadow Gold Girls State Soccer championship game.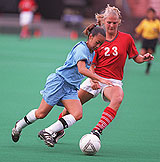 Baldwin's Taryn Apo, left, charges for the ball while being pursued by Hawai'i Prep's Rachel Gleed. Apo got Baldwin off to a quick start, scoring just three minutes into the game.

Jeff Widener • The Honolulu Advertiser


The Trojans will play top seeded, unbeaten, defending champion Baldwin of Maui at 7:30 tonight at Aloha Stadium.

Baldwin's Bears mauled Hawai'i Prep of the Big Island, 3-0, in the other semifinal last night.

Mililani and Pearl City were tied at 1 after 80 minutes of regulation play and 20 minutes of sudden-death overtimes, calling for the shootout of alternating 12-yard penalty kicks, shooter and goalkeeper going mano a mano.

Mililani's Jolie Nitta made the first kick of the shootout.

Mililani's goalkeeper Eryn Kishimoto blocked Pearl City's first try.

Kishimoto said her instincts overruled her brain on the kick she blocked.

"I had a feeling I should go right, but my feet went left," she said. She was in perfect position and caught the kick chest high.

The next two kickers for each team scored and the fourth kicker for both teams missed, putting Jenn Iha in position to close it out at 4-2.

Iha put her kick into the lower-right corner to win the game.

"If you place a penalty kick correctly, it's unstoppable," Iha said.

"This is the most awesome feeling," Kishimoto said. "I can't believe we're here."

Mililani is playing in the final for the first time since its second state championship in 1994.

"We've all been waiting for this," said Nitta, who controls Mililani's offense from her halfback position. Pearl City lost only two games all season, both to the Trojans.

"We get so psyched up for them," Nitta said. "They're like our little nemesis."

Reaching the final probably means more to Mililani coach James Uson then anyone.

Last year, he underwent emergency brain surgery just before the tournament and was recovering at Kaiser Hospital when Baldwin ousted Mililani in a quarterfinal game.

"This is the ultimate for me," Uson said. "I wanted to be with them at states and I thank God I am.

"Making the finals is even sweeter."

Uson was an assistant on the 1994 championship team and this is his first final in five years as head coach.

Mele French scored Mililani's regulation-game goal 11:36 into the second half. Julie Broussard had made a run to the corner and crossed the ball in front of the goal. French leaped and deflected the ball off her chest.

It caromed off the crossboard and Charger goalkeeper Tina Questel could not gather the rebound and it bounded into the goal.

Pearl City tied the score at 71:53. Mililani's sweeper tried to intercept a pass to Chante Figueroa and missed, leaving Figueroa one-on-one with the goalie just inside the 18. Her shot whistled home to tie the game.

In the 10-minute sudden death overtime, Questel made three saves, two of them on back-to-back, point-blank shots within a 10-second span.

Mililani's Kishimoto made a great save in the second overtime when she came out of her box to gobble up a shot in the seventh minute.

A total of 1,597 watched yesterday's games at Aloha Stadium.

MILILANI 0 1 0 0 1—2
PEARL CITY 0 1 0 0 0—1

Regulation-Mililani (Mele French 51:26), Pearl City (Chante Figueroa 71:53).

Shootout scoring-Mililani (Jolie Nitta, Julie Broussard, Mallory Iha, Jenn Iha), Pearl City (Iris Nakata, Kory Ann Toyama).

Shots-Mililani 14, Pearl City 4.

Saves-Mililani 2, Pearl City 10.

Goal kicks-Mililani 12, Pearl City 26.

Corner kicks-Mililani 11, Pearl City 1.

Fouls-Mililani 10, Pearl City 8.

Offsides-Mililani 0, Pearl City 2.

consolation bracket
Waiakea 2, Kaua'i 1: Andrea Wong's goal midway through the second half put the Warriors into today's consolation final against crosstown rival Hilo.
There were only 15 shots taken in the game, six by Waiakea, and Kaua'i was unable to take advantage of six corner kicks.
Wong's goal came at 59:40. Jobette Nabarro scored Waiakea's other goal at 28:44. Amber Santos scored Kaua'i's goal at 54:56.
Hilo 1, King Kekaulike 0: Na Ali'i goalkeeper Jennie Cabatingan stopped 10 of 18 Viking shots, but one by Erica Chong got through just past the halfway point of the second half. Many of Hilo's opportunities came from an 8-2 advantage in corner kicks.
Chong's goal came at 62:05.
Kailua 1, 'Aiea 0: Sarah Takekawa kicked in a rebound off the Na Ali'i goalkeeper about 15 minutes into the second half for her fifth goal in three state games.
Kailua was called for 16 fouls to 'Aiea's seven, and got off just six shots to 'Aiea's 11. Surfrider goalkeeper Crystal Akana made seven saves.
Punahou 3, Kahuku 0: Tiffany Taylor scored twice, one at 22:40 and the other at 28:51, to lift the Buffanblu.
Jennifer Proudfoot scored the Buffanblu's last goal at 36:02.
Punahou outshot Kahuku, 13-7.
CORRECTION
HPA in state semifinals: Hawai'i Preparatory Academy's girls soccer team played in the semifinals of the 1994 state tournament, losing to Mililani. Mililani won the '94 championship and HPA tied Punahou for third place.
But the nine seniors on this season's HPA team had lost their first state game every year until this week. Incorrect information was reported in yesterday's Advertiser.