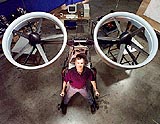 Michael Moshier, founder of Millennium Jet Inc., gets a grip on his SoloTrek Exo-Skeletor personal flying machine with the help of a Defense Department grant. See story.

Associated Press
Aloha Airlines expands routes
Aloha Airlines, Hawai'i's biggest interisland carrier, is again expanding, this time with new flights planned to Oakland, Calif., and the Marshall Islands in the Central Pacific.

American Savings subsidiary to buy Bishop Insurance
American Savings Bank's investment subsidiary will acquire Bishop Insurance Agency of Hawai'i in a move that expands the bank's range of services.