SPECIAL REPORT

The USS Greeneville and its crew return to Pearl Harbor today after the sub hit and sunk a Japanese training vessel yesterday.

Photos by Bruce Asato • The Honolulu Advertiser

The collision between the Greeneville and the Ehime Maru is evidenced on the rudder of the Los Angeles-class attack submarine.

Updated at 2:40 p.m., February 10, 2001
NEWS UPDATE
Navy apologizes as hope for more survivors fade
U.S. Adm. Thomas Fargo met with a top Japanese foreign ministry official in Honolulu this morning and formally apologized for the accidental sinking of a Japanese fishing training ship, the Ehime Maru. No new survivors from the collision have been found by this afternoon.

Previous story: 9 missing after sub hits Japanese ship

See video of the Coast Guard rescue effort in large (6.8 Mb), small (1.1 Mb) or streaming format. (QuickTime plug-in required.) Video courtesy KHON-TV.

What do you think of the collision of the USS Greeneville and the Ehime Maru? Join our discussion board.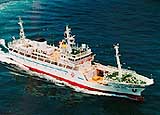 The Ehime Maru is operated by Ehime Prefecture in Japan as a training vessel for commercial fishermen.

Uwajima Fisheries School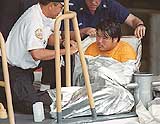 A victim aboard a Coast Guard rescue vessel is helped by emergency medical service and rescue personnel as they arrive at the Coast Guard Reservation on Sand Island.

Cory Lum • The Honolulu Advertiser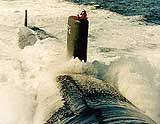 The USS Greeneville is a Los Angeles-class fast attack submarine homebased at Pearl Harbor.

U.S. Navy photo
Damaged ship sank within 10 minutes

In the frantic final moments of the Ehime Maru, crew members heard a loud thump and felt a shudder move through the hull. The power was lost, the lights went out and water poured into the ship, nine miles off Diamond Head.
Japanese school anxiously awaits news of students on boat
At the school of 200 students, Principal Ietaka Horita went down the phone list of parents of those on the ship and called to tell them what he knew: that it had been struck by a U.S. Navy submarine. He also told them what he didn't know: whether their children were alive or dead.
Accident while surfacing a real fear
A temporarily blinded periscope. A boat sitting idle on the surface that sonar cannot detect. Rough seas. Human error. All can be factors that help steer a state-of-the-art Navy submarine into a collision. It has happened before.
Investigation into collision promised
The Navy promised a thorough investigation into the collision between the Ehime Maru and the submarine USS Greeneville, but the rarity and complexity of the incident left commanders at Pacific Fleet headquarters last night with more questions than answers.
In Japan, hope is fading as search continues
The families of four students missing after a U.S. submarine surfaced under their fishing boat huddled in the school principal's office in a small Japanese town on Saturday and nurtured fading hopes that their loved ones might survive.