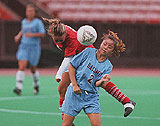 Baldwin's Alana Souza, right, tries to avoid a collision with Hawai'i Prep's Tiare Easley in a state soccer semifinal game. See story

Jeff Widener • The Honolulu Advertiser
UH pulls away in 2nd half, wins 68-49
Dainora Puida scored 20 points and grabbed 13 rebounds, and Crystal Lee added 18 points as Hawai'i defeated Fresno State, 68-49.

Mililani defeats Pearl City to advance to state soccer final
Mililani dominated throughout but had to go to a shootout to defeat Pearl City, 2-1, last night to reach the State Soccer championship game. The Trojans will play top seeded, unbeaten, defending champion Baldwin of Maui at 7:30 tonight at Aloha Stadium.