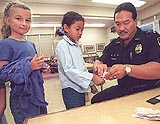 Honolulu Police Sgt. Gary Kawasaki takes a thumbprint from Noelani first-grader Azure Sky Baker, 7, while Irina Yaremchuk, 6, waits in line. The students were being fingerprinted yesterday for identification cards through O'ahu's Keiki ID program.

Bruce Asato • The Honolulu Advertiser
Newspaper sale court order
On Nov. 9, a federal judge approved the sale of the Honolulu Star-Bulletin and brought an end to an anti-trust lawsuit filed by the state attorney general against Gannett Pacific Corp., which operates The Honolulu Advertiser. Download order approving the sale and the sales agreement. (Adobe Reader required, 2.3 Mb.)
9 missing after sub hits Japanese ship
A Pearl Harbor-based nuclear submarine surfacing off O'ahu yesterday sliced through the hull of a Japanese high school training ship with 35 people aboard, sinking the vessel within minutes.
Damaged ship sank within 10 minutes
In the frantic final moments of the Ehime Maru, crew members heard a loud thump and felt a shudder move through the hull. The power was lost, the lights went out and water poured into the ship, nine miles off Diamond Head.
Japanese school anxiously awaits news of students on boat

Accident while surfacing a real fear

Investigation into collision promised

See video of the Coast Guard rescue effort in large (6.8 Mb), small (1.1 Mb) or streaming format. Video courtesy KHON-TV.

Graphic of how the the collision happened.