By Ann Miller
Advertiser Staff Writer
KEAUHOU, Hawai'i — With a wave of Annika Sorenstam's unwavering swing and a peek at Karrie Webb's vast potential, LPGA Takefuji Classic II suddenly looks an awful lot like last year's original.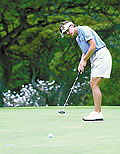 Annika Sorenstam missed this birdie putt on the 18th green, but shot a 67 for a two-stroke lead.

Associated Press

Sorenstam mowed down the fairways at Kona Country Club's Ocean Course and much of the opposition yesterday, shooting a second-round 5-under-par 67 to take a two-shot advantage into today's final round.

Her bogey-free follow-up to Thursday, which was her 2001 debut, was ruthlessly efficient. Sorenstam poured in five birdies within 13 feet and her longest par-saving putt was three feet.

"I wish it were that easy all the time," Sorenstam said. "I hit 17 greens so I had a lot of opportunities. · For my first week, I couldn't have asked to feel better about my game."

She has missed hitting just three greens in regulation this week, with a swing grooved by a month of solid work, with her coach and without the distractions of tournaments.

Sorenstam's separation is one shot better than what she took into last year's last round. Her score — 7-under-par 137 — is one worse. Her most compelling threat is precisely where she was a year ago.

Webb, the only player who has approached Sorenstam's brilliance the past six years, is two back after a second-round 69. Also at 139 are 23-year-old Cristie Kerr (69), and Canadians Lorie Kane (69) and A.J. Eathorne (70).

"I'm putting well and hitting the ball well," said Webb, who has finished second in her last two events. "I just seem to be throwing one bad swing in there and making bogey, so I lose my momentum. When you shoot a really low score, you don't make silly bogeys like that. My game is in good enough condition, I just need to make the opportunities I give myself and stop the soft bogeys."

Yesterday Webb birdied 11 and 12 to catch Sorenstam, playing a hole behind. But just when Webb appeared to be warming up for one of her legendary hot streaks, she hit her approach shot into the bunker at the 13th and couldn't get up and down. She neutralized that with a birdie at 16, but closed by three-putting her final hole for the second straight day, this time for par.

A year ago, Webb caught Sorenstam with a birdie on that18th hole, and beat her with birdie on the same hole in the playoff. With that history, and 46 wins between them the past six years, it is difficult to think about anyone else today.

"We'll keep chasing them," Eathorne said. "Every week it seems."

Kane, who won her first three tournaments last year, agreed: "You expect them to be there, but it's not different from a challenger's perspective. It just happens to be Annika's name at seven under and I know what her potential is — to be the best in the world. I just have to go out and be the best I can be. If it's good enough to catch her, great. If not, we'll try again next week."

Webb has come from behind in 10 of her 23 victories, including three last year. Sorenstam has taken an advantage into the final round 28 times in her career, and won 16 times. When she left the Island last year she promised she would "deal" with her rare disappointment.

"These are things that build strength," she said. "You have to have some lows to get to the highs. This is as close as you can get. I want another chance. I want another chance from Karrie."

She has it now.
SHORT PUTTS: The cut (low 70 and ties) came at 4-over 148 yesterday — one shot lower than last year. Former University of Hawai'i golfer Cindy Flom (72-149) missed by one shot. ... Sherri Turner and Pat Hurst, who both finished in the Top 10 here last year, are tied for sixth with 2000 Rookie of the Year Dorothy Delasin, Sophie Gustafson and Wendy Ward. ... Turner, 44, has not won a tournament since the 1989 Hawaiian Ladies Open. Ward also won that event, in 1998. ... Gustafson was the only other golfer to reach seven under yesterday, but played her final seven holes in three over. ... First-round leader Maria Hjorth shot 73 and is five back. ... Annika Sorenstam and Karrie Webb both qualified for the LPGA Hall of Fame last year, but have to wait to reach the 10-year-membership qualification. Sorenstam, 30, will be inducted after the 2003 season and Webb, 26, after 2005. ... Kris Tschetter was the first to reach five under yesterday morning, after birdieing four consecutive holes. Tschetter, playing in her first tournament since June hip surgery, closed the front nine with three straight bogeys and shot 73. ... Tina Barrett shot a tournament-record 66 to make the cut at even par.