By Mike Leidemann
Advertiser Staff Writer
Photos by Jeff Widener
Advertiser Photographer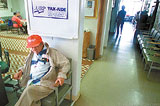 Life is laid-back at Lanakila Senior Citizen Center, where seniors get help with taxes, filling out forms, attend classes, exercise or just take a nap.

At the Lanakila Multi-Purpose Senior Citizen Center, people give as much as they get. This isn't just a motto: Every day at Lanakila, senior citizens come. They play. They learn. And they serve, giving back to their peers as volunteers.

It's a way to long life, health and happiness.

"This place offers so much," said 81-year-old Masato Sugihara. "You have to give back as much as you get."

For more than 30 years, Lanakila Center has been a place where thousands of Honolulu seniors go to give and get. Many use it to get away from home for a few hours a week; others think of it as their second home. It's a place for the elderly to make new friends and, sometimes, to say goodbye to old ones.

Hundreds of people drop by every day. Sometimes they sing or sew, sometimes they play pool or mahjong. Always, it's a place of sharing, a community of like-minded people.

"It's something to keep you busy," Sun Wong said. "You went to work every day when you were working, so you might as well go out and play every day once you're retired."

For 25 years, Wong has led a regular walking group that steps off from the center steps at 8 a.m. Years ago, the walks were daily and ranged as far afield as Kalihi or Aloha Tower. Now, the group walks three times a week, covering a little less ground. "It's enough to keep us healthy," Wong said.

Keeping seniors active and healthy is the whole idea behind a network of community centers throughout the state, said Marilyn Seeley, director of the state Office of Aging.

Lanakila (so called because it's on Lanakila Street, just off North School Street) is the largest and busiest of the centers, but there are nearly 30 more that provide anything from craft classes to hot meals, advice on taxes, Social Security and health, and a simple escape from the daily grind of living alone.

"The idea took hold in America in the 1960s," Seeley said. "We realized that we needed to provide a place for seniors to go for socialization so they wouldn't feel isolated."

Using state money and land, Lanakila opened in 1969 in an area with one of the highest concentrations of elderly in Honolulu. It was designed to serve people from Fort Shafter to Ward Avenue, and almost immediately began attracting crowds to its spacious open-air lanai and activity-filled craft rooms.

The center is run by the Catholic Charities Elderly Services program and financed by the state Legislature.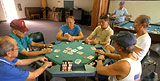 At Lanakila Senior Citizens Center, a group of seniors play poker for high stakes ... lunch. Classes, outings, ethnic club meetings, activities and community service projects provide a full day for the downtown elderly.

More than 2,000 people pay $1 a year to join one of the six active ethnic associations that make up the center's base. At least half of those members come to the center regularly. Those who live outside Lanakila's defined population area - Kalihi, Palama, the Lanakila neighborhood and parts of downtown - also can participate by first performing five hours of volunteer service at the center.

After 30 years of daily use, the center looks a little worn around the edges, but still overflows with people and activity. On any typical weekday, one of the ethnic clubs is holding a meeting there, and the list of other classes and activities might include karaoke, hula, sewing, tai chi, Hawaiian quilting, line dancing, embroidery, 'ukulele, koto, mahjong, billiards, feather craft, tap dancing, Bible study, stretching and bingo.

"Lanakila is great because it seems to provide just what the people want," Seeley said. "The proof is in the number of people who use it every day."

"We don't come just to play. We come to serve and learn," said Jessie Okajima, president of the Lanakila Japanese Cultural Club, which meets every Monday morning.

With several hundred members seated quietly in the lanai, a typical meeting includes the singing of the national anthem and "Hawai'i Pono'i," a few business remarks and reminders ("Remember to watch for turning cars when you're in the crosswalk.") and an hour's worth of Japanese entertainment. Afterward, there's a sale on homemade sushi, lunch provided for those who want by the Meals on Wheels organization and a chance to sit around and socialize a little more before heading home.

The members are mostly women. ("Most of the men, they went away long time ago," says one widow.) There's just one hard-and-fast rule: "We all ask that everybody puts their own chair away," said Minnie Mana, a club vice president.

Different activities are scheduled every week at Lanakila. On the first Monday, it's speakers from health and human services agencies; on the second Monday, members relax with sing-alongs with music from an earlier era. The third Monday of the month is to celebrate birthdays; in January, the club honored three members in their 90s. Finally, on the fourth Monday, it's bingo.

Outings also are organized throughout the year, but even more so the emphasis is on giving back to the community with service projects, with group members volunteering at area hospitals, care homes and schools.

For those who prefer passive activities, there's a small reading room filled with magazines, from Car and Driver to The Journal of Longevity. There are also chairs and desks for writing letters, filling out Social Security forms, gossiping or just taking a nap.

"It's really rewarding to come together and share with each other," Mana said. "We all need each other. We keep an eye on one another so we know who's not here and why."

Nothing brings the seniors together like a threat to their home-away-from-home.

Late last year, the state Health Department proposed temporarily shutting the center and creating a four-story office complex and renovated community center on the site.
Seniors get together regularly to chat and keep an eye out for each other. This year, the state Legislature will consider a proposal to make capital improvements to the Lanakila center.

The seniors responded with protective outrage, said Drusilla Tanaka, the center's director. A meeting of state officials and legislators drew an overflow crowd of nearly 1,000 people, almost all delivering the same message: Don't do it.

"To a person, everyone was very gracious, very articulate, but very persistent," said the Rev. Gregory O'Donnell, president of Damien School. "The message was 'this is the most important part of my life. If you close it down, even for a little while, you're going to kill me. This is the place that keeps me going.'

"I was really impressed. Of all the things that don't go right in the world, here's something that nearly everybody agrees works marvelously, just like it's supposed to."

The Health Department quickly backed off its proposal, but this session the Legislature will take up a proposal to make some capital improvements at the center.

"It's a great place in need of a little help," said state Sen. Suzanne Chun-Oakland, D-14th (Palama, 'Alewa Heights), sponsor of a bill to finance some relatively small-scale improvements to the center's stage, floor and restrooms.

Chun thinks Lanakila could be used as a model for other senior centers.

"We need to expand these types of services," she said. "As our senior population grows, we need to invest in these very cost-effective, prevention programs that keep people active, healthy, and very engaged in the community."

Masato Sugihara, a charter member of the Lanakila Center, said it's a plan that's worked well for more than 30 years.

Sugihara, known throughout the center for his deep knowledge of parliamentary procedures, joined the Okinawan club shortly after his retirement and has been attending the center nearly every day for more than 25 years, sitting in on the activities of most of the ethnic clubs, including Hawaiian, Chinese, Portuguese, Filipino, Korean, and Japanese.

"If I'm not sick, this is where I'm at all the time," said Sugihara, a retired teacher and state Department of Defense worker.

But it's not just for himself that he comes. Since he joined Lanakila in 1975, he has contributed more than 6,240 hours of service and was honored last year as the center's Volunteer of the Year.

"I like to do things with my hands," he said. "So I teach classes. I taught people how to make animal figures with golf balls, Christmas wreaths from tinsel or to sew feather leis. I like to come here and share with the others."