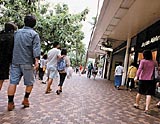 More visitors are the goal of Waikiki's "business improvement district" or BID.

Cory Lum • The Honolulu Advertiser
Revitalizing Waikiki business
Business leaders in Waikiki want their fledgling BID — Hawai'i's first, which officially launches March 1 — to rejuvenate what visitor industry officials have long complained is a tired destination losing marketshare.

Visitor shopping up 10 percent in 2000
Younger travelers and a stronger yen drove average spending by Japanese visitors up about 10 percent last year at Island retail stores over 1999, according to a new survey.