By Heidi Bornhorst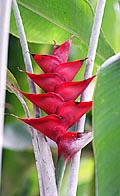 Heliconia caribaea, a favorite with Island gardeners, is one of a wide variety of heliconias that bloom throughout the year.

Advertiser library photo • July 11, 2000

Many of us need flowers for arrangements and beauty in the garden. Heliconias and gingers are a favorite for these purposes.

These can be easy and durable to grow if you prepare the soil well: lots of compost and organic matter mixed in and applied to the soil every few months, a generous hand with the fertilizer, a place in your garden with the maximum amount of sunlight (flowering plants and vegetables need good light to bloom and fruit well).

If you leave the flowers on the plants they will last for many months, giving you pleasure every time you see them. They make good cut flowers.

We need this here in the Islands, to take as a hostess gift, decorate for a special event and to remember those who have gone before us by decorating their graves or memorial sites.

Now is a good time to pick a spot, prepare your soil and plant some heliconia or gingers for summer blooming and for an awesome show next spring.

Heliconias are choice because they come in such a wide variety of species and hybrids. They come in many sizes and have a wide range of colors and bloom at different times of year.

There are the minis parakeets: Heliconia psittacorum, the medium- sized ones like the spring blooming H. wagneriana, and the huge majestic ones like H. caribaea, which comes in bold red with a white stalk, orange, yellow, cream and colors in between.

If you want to see a good show of these, come to Foster botanical garden, one of the botanical gardens where I work. At the ramped entrance is a large stand of the red and yellow H. caribaea.

May Moir, my 93-year-old gardening tutu, is responsible for bringing the yellow one to Hawai'i many years ago. We also planted this at the Hale Koa hotel, where it blooms for many months of the year.

So you can see that heliconias can grow in diverse climates from the coast to inland and mauka gardens. The key again, is adding lots of rich organic matter: old leaves, buried kitchen garbage (no fat or meat and bury it at least a foot deep) tree chips and so on. You can use a balanced fertilizer like 8-8-8 complehumus, 20-20-20 or a 10-20-20 for more blooms and better roots.

However, some of the best gardeners never use chemical fertilizer. Leland Miyano uses none in his windward-side garden and has awesome heliconias.

I once got to visit the famous dentist and plants man, Dr. Adrian Brash, of Tantalus. He had many nice gingers and heliconias that he shared with my mom and I.

I asked him his gardening secrets and he said simple "'opala" (rubbish). He recycled all his garden clippings: heliconia, ginger and spent banana stalks, which are good for building up the soil around these kinds of plants. That combination represents the ultimate recycling.

He would add grass clippings to his organic, heliconia boosting mix, but this must be done in moderation: mixing the grass sparingly with other more bulky types of mulch materials.

You can also buy organic mixes and top-dressing materials. For years we had only things from the Mainland, like redwood shavings and fir bark. It was kind of funny, importing "trash" from the Mainland, but it worked OK. Now we have many companies in Hawai'i recycling and making top-grade organic materials.

We had Unisyn, which was a great product. Now we have Menehune Mulch from Hawaiian Earth products. This stuff is great and you can buy it by the bag or you can have a truckload delivered, if you really want to do it right.

They also have a new compost shooter that can send the compost all over your garden or landscape, which saves you some time with the hard labor of shovels and wheelbarrows.

You can get heliconias from some landscape nurseries, garden shops or specialty growers like Ken and Lisa Vinzant of Olomana Tropicals. You can also mark you calendar for the spring Lyon Arboretum plant sale March 24 at the Neil Blaisdell Center. It will have some choice offerings, especially of H. wagneriana and H. caribaea.

Happy gardening and arranging!