By Virginia Wageman
Advertiser Art Critic
Hiroki Morinoue, Toshiko Takaezu, Duncan Dempster, Melinda Morey, Rob Noland and Jeff Tam.
The Contemporary Museum at First Hawaiian Center.
Through May 2.
Information: 526-0232
---
Mel Chin to lecture at UH-Manoa

Artist Mel Chin, known for his sculptures and earthworks, will present a public lecture at the UH-Manoa Art Auditorium on Tuesday at 7:30 p.m.

Exploring the crosscurrents between Asian traditions and American culture, Chin has produced large-scale works that speak to human rights, the environment and ancient cosmology.

Parking is available at the Art Department Building for $3. The lecture is presented by the Intersections Visiting Artist Program of the Department of Art.

Two stellar shows at the Contemporary Museum's First Hawaiian Center venue are not to be missed. Another, of work by four emerging artists, is also well worth a look.

On display are paintings and prints by Hiroki Morinoue and ceramics by Toshiko Takaezu, both artists who were born and raised on the island of Hawai'i and both of whom have been named Hawai'i Living Treasures in Honpa Hongwanji's prestigious program.

Morinoue's works, abstractly evoking the landscape of Hawai'i - its water, rocks and sky, are sublime expressions of place. His primary compositional strategy is to employ a blocklike grid, suggestive of a quilt or a shoji screen.

The centerpiece of the show is "Views of Water," a multipanel work, each panel a depiction of water. In some, rippling surfaces are clearly visible, while in others abstractions suggest sunlight on water or water at night.

Though Morinoue's images derive from Hawai'i, they achieve a universality in being landscapes of this Earth. Indeed, the "Views of Water," which totals 70 panels, only 42 of which are exhibited, was painted in New York.

Another source of Morinoue's imagery is a well-worn dictionary of symbols from which he selects icons, such as patterns of circles and dots, that are aesthetically pleasing to him. Though for him the meanings of the symbols are irrelevant, the paintings gain an added resonance from the implied meanings of these forms, such as the symbols for floodwater or for poisonous water.

In "Raked Earth," 27 symbols are arrayed to evoke a landscape from an aerial perspective, setting up a dynamic dialogue among the segments, or blocks, that make up the piece.
Hiroki Morinoue, "Raked Earth," 2000, acrylic and plaster on wood.

Photo by Brad Goda

Morinoue's wide range of magnificent hues is achieved with just three primary colors - red, yellow and blue - plus white. With this limited means, he gains access to an unlimited palette, an ultimate expression of less is more.

While Morinoue continues to live and work in Hølualoa, in the home that was once that of his parents, Toshiko Takaezu left Hawai'i to forge an international career, teaching ceramics at Princeton University until she retired in 1992. She lives in New Jersey, but continues to return to Hawai'i for several months each year.

As with Morinoue, Takaezu's works reflect a purity of vision and of means. On display at the First Hawaiian Center is a large selection of ceramic works created in the last decade, most small enough to be held in the hand. There are also eight large forms, the tallest of them nearly five feet high.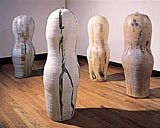 Toshiko Takaezu, four large ceramic forms that represent Eurynome, wife of Zeus, at the right, with the three Graces, from left, Euphrosyne (Joy), Algaia (Beauty) and Thalia (Charm).

Photo by Perimeter Gallery, Chicago

The small objects are closed, round forms, their shapes derived from those of the functional bowls and cups that the artist made early in her career. As closed forms, they transcend their earlier functionality and become essentially sculptural.

Aside from their lyrical forms, these pieces are marked by their gestural glaze decorations in both delicate and bold colors, from the palest yellow, pink and lavender to deep browns and blacks and a rich blue that the artist terms Makaha blue.

The large forms, monumental elongations of the smaller pieces, suggest figures in a landscape. The most recent are cinched in at the center, suggesting human torsos, further emphasizing their figurative aspect.

Titled with the names of Greek gods and goddesses, these new pieces do indeed take on human attributes. Eurynome, the wife of Zeus, has a warm, sensual form, while her daughters - the three Graces Alglaia, Euphrosyne and Thalia - are slimmer, more graceful, and bathed in cooler colors than those of their progenitor. To one side is Zeus, with a shape that suggests virility and strength.

Takaezu was the first ceramicist to create the sculptural closed form. In these works she demonstrates the grand artistry that can be derived from humble clay.

Also on view at the First Hawaiian Center are prints by four young artists: Duncan Dempster, Melinda Morey, Rob Noland and Jeff Tam.

First, let it be said that after viewing the incredibly accomplished and mature works of Morinoue and Takaezu, coming to the final gallery space with the works of artists who are at the beginnings of their careers may be somewhat of a letdown. But, one should not give up before seeing this show.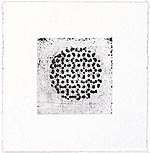 Duncan Dempster, "Version #1 (Attraction)," 2000, etching.

Photo by Brad Goda

Duncan Dempster's works are zinc plate etchings, with imagery that takes the circle as its starting point. Generating his printing plates from a variety of materials, such as litho crayon, rub-on type, and stencils, he expertly explores in black and white the permutations possible with his chosen form.

Melinda Morey's prints are born out of her move to the East Coast from Kaua'i. Drawing on, a non-instrumental navigation course Morey took before she moved, and using a variety of printmaking means, they evoke an unromanticized nostalgia for place and family.

Rob Noland and Jeff Tam both use cartoonish images and humor in their prints to impart their messages. Both create wild all-over designs, full of personal and universal references: Noland's primarily are to the visions in the Book of Revelations, and Tam's to basketball superstars as well as to his friends and family. Both create works that are superbly inventive and great fun to decipher.

Beginning collectors take note: Most of the works in the print show can be had for a song. For less than the average price of a giclÚe reproduction, one can have an original work of art.

Virginia Wageman can be reached at VWageman@aol.com