By Zenaida Serrano Espanol
Advertiser Staff Writer
Photos by Cory Lum
Advertiser Photographer

Hectic schedules for Camille and Whit mean they must squeeze a bit of romance into everyday things. Camille, right, holds daughter, 5-month-old Chelsea, as she touches fingertips with husband, Whit, left, with 5-year-old daughter, Christianne, as they pass in the hallway on separate, child-related errands.

When a couple is together for a long time, it's common for problems to develop in their relationship. Some couples become distracted with child or work responsibilities, stop communicating and eventually drift apart.

When the intimacy fades, relationships can head toward trouble.

But Carey Brown, a licensed social worker and coordinator of Employee Assistance Program at Straub Clinic & Hospital, says that a deep level of intimacy is important if a relationship is to last.

"One of the defining attributes of an intimate relationship is its romantic quality," Brown said.

So it's no wonder many couples gladly welcome ideas about how they can maintain an intimate and romantic relationship.

In honor of Valentine's Day on Wednesday, we asked our readers to write to us to share their tips for lasting love.

Whether it's leaving surprise love notes for each other, going on weekly dates to the movies or taking evening walks together, many couples have their own, special ways of keeping the flames of love burning in their relationships.

Here's what they had to say:

Quality time

Many couples said that continuing to go on dates is a must.

"No matter how busy we both are in our lives, my husband and I take one day out of the week to go on a date," said Carol Kita, 44, of 'Aiea.

Kita said that she and her husband, Glen, 46, usually go out to lunch or dinner, "followed by going to the theater to watch a good movie and pigging out on junk food."

"We cuddle, hold hands and act like teenagers," Kita said. "Even though we've been married for 22 years and (are) in our mid-40s, our dates always make us feel young."

Kumi Macdonald of Manoa, 32, also enjoys going on dates with her husband, John, 33. Even though the Macdonalds are raising two children, Kumi said that she and her husband, to whom she has been married for 13 years, make it a top priority to have weekly dates.

"I don't need romance, flowers or chocolates," she said. "I just like knowing that I can go to the movies with my best friend and feel at ease."

"Building more quality, interactive time together (is important)," said Alan Lubliner, a clinical therapist at Kaiser's Behavioral Health Services.

Lubliner said whether couples go on dates or simply take walks together, it is important for them to spend time together to continue building their closeness and friendship.

June Tsukamoto of Waipahu, 67, said that Fridays are reserved for her husband, Allen, 67, to whom she has been married for 46 years.

In a poem, she wrote: "My partner's passion is tennis, and two nights a week are his; while my outings are in the mornings, my walks I will not miss. Monday through Thursday we granddaughter-sit, loving it to the max; but Friday is our day together, to do as we may and relax."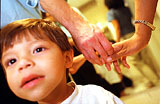 Two-year-old Ryan Michel is nearby when his parents, Camille and Whit Michel of Kahala, touch hands.

'Little things'
Although Camille Domaloan Michel of Kahala, 34, thinks that going on dates is a great idea, she said it's easier said than done.
"Here's the short list of excuses why this date thing isn't happening for us," she said. "Him (husband, Whit, 33) - full-time job, full-time MBA student. Me - full-time job where I work half-days in the office, do the rest from home at night. The rest of the time, we're the parents of Them - Christianne, 5à; Ryan, 2à; and Chelsea, 5 months."
Instead, Michel and her husband of eight years keep the passion alive by squeezing a bit of romance into the little, everyday things they do.
"We end every phone call during the day with 'Too, bye,' an abbreviated version of 'I love you/I love you, too,' " Michel said. "At home, we touch fingertips as we pass in the hallway on separate, child-related errands. At some point in the midst of the dinner/bath/bedtime frenzy, we'll exchange the kind of glance that husbands and wives - not mommies and daddies - share."
Lubliner advises couples to increase their caring behaviors through things like affirmation, acknowledgment, affection and appreciation.
"They're little, manini-type things that are important," he said.
Lubliner said these actions include, for example, hugging each other before leaving for work or giving back rubs after a long day.
Like Michel, Joanne Moylan of Hawai'i Kai, 34, cherishes the little things that her husband, Vincent, 44, does for her.
"I realize that it's the day-to-day things that my husband does that makes me feel loved," said Moylan, who has been married for 1à years. "It is expressed in the way that he still opens doors for me, the way that he offers to get me something from the kitchen when he is getting something for himself á the way that he sits and watches my favorite television show even though he might prefer to watch something else."
'Positive communication'
"I think the No. 1 tip is increasing positive, healthy communication," Lubliner said.
He said that it's important for couples to take the time to connect with each other, and added that communicating doesn't necessarily mean verbal communication - it can be in written form, too.
For example, Rayne Hense of Hawai'i Kai, 28, said that she and her husband, Greg, 30, leave sweet notes for each other in surprising places, such as in the shower, desk drawer or car.
"The notes my husband leaves tell me how much he loves me and that he thinks I'm beautiful," said Hense, who has been married for 1à years. "It puts a smile on my face and I end up thinking about him all day."
Like the Henses, Samson Howe of 'Aiea, 54, and his wife, Denise, 45, like to leave notes for one another. Howe said that they buy greeting cards for each other, the ones that are blank inside.
"(We) fill in our own words to show how much we appreciate each other," said Howe, who has been married for 2à years. "Sometimes we leave little Post-It notes (around) saying, 'love you' or 'miss you' á when we don't connect during the day due to work and errands."
John Toillion of Mililani, 55, said he treasures the time he spends talking to his wife of 34 years, Diana, 55, during their 30-minute, evening walks with their dog.
"It is not only good physical exercise, but also good mentally as it provides us an opportunity to unload from our hectic day," Toillion said. "Diana has always been a good listener and allows me to dump my daily, job-related frustrations on her."
Out-of-the-ordinary
Then there are those couples who keep the flames of passion ablaze in ways unlike any other.
Vicki Muresan of Hilo, 40, gets creative by clipping cartoon strips from newspapers that reflect a situation that she and her husband, Leon, 49, can relate to. She sometimes changes the names of the characters or alters the characters' appearances to make them look like her and her husband.
"I stick them on the fridge for Leon to see," said Muresan, who has been married for 12 years. "He's always so tickled to see new ones."
Elizabeth Lange, 37, said that the new lifestyle that she and her husband share has brought them closer together.
"We share an insatiable appetite for adventure of any kind," said Lange, who has been married for nine years to her husband, Matthew, 41.
"Early in 1999, we shed ourselves of our material belongings and moved aboard our sailboat, Rubicon," Lange said. "By a full moon we sailed under the Golden Gate Bridge, filled with excitement and apprehension, knowing our future was as vast as the ocean itself."
Lange said that sharing the unknown is "an incredible learning experience that has made our relationship stronger than we could imagine.
"While anchored in a tropical paradise or surviving (a) tempest at sea, we share responsibilities including navigation, boat maintenance and catching dinner," said Lange, whose sailboat is currently docked at Ko Olina Marina.
"Nothing says 'I love you' like a cup of herb tea during that 3 a.m. watch, handmade wind chimes of collected shells or even speedy first aid on each other where there is no doctor."