"Even though we've been married for 22 years and (are) in our mid-40s, our dates always make us feel young."
Carol Kita of 'Aiea, 44, married 22 years to husband, Glen, 46

"We share a common belief - always knowing that we cannot 'do' marriage on our own, but only by the grace of God."
John Toillion of Mililani, 55, married 34 years to wife, Diana, 55

"I don't need romance, flowers or chocolates. I just like knowing that I can go to the movies with my best friend."
Kumi Macdonald of Manoa, 32, married 13 years to husband, John, 33

"My husband and I leave sweet notes for each other."
Rayne Hense of Hawai'i Kai, 28, married 1 1/2 years to husband, Greg, 30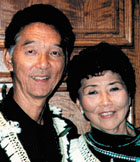 "Never take your love for granted; treasure it with all your might."
June Tsukamoto of Waipahu, 67, married 46 years to husband, Allen, 67