By Catherine E. Toth
Advertiser Staff Writer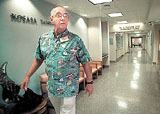 Shay Auerbach heads a program at the Rehabilitation Hospital of the Pacific that pairs stroke survivors with stroke victims.

Bruce Asato • The Honolulu Advertiser

Two weeks before Christmas in 1994, Shay Auerbach spent the early morning talking to his son on the phone. It was his son's birthday.

Around 6:30 a.m., Auerbach walked from the bathroom back to his bedroom, when he felt the left side of his body going weak. Within seconds, his body crumpled to the floor.

That moment has changed his life.

Auerbach has had four strokes within just four years, and two of them have been major. His 1994 stroke kept him in the hospital for 14 days and in rehabilitation for nearly three months, a testament to its severity because an average rehab center stay for a stroke patient is 10 to 14 days, he said. He couldn't walk or swallow, and his physical therapist wasn't sure he'd walk again.

He wished there was a program for stroke patients, something that could help him cope and overcome the sudden shift in his life.

So he created one.

Called "Partners in Healing," the free, newly launched program for

Rehabilitation Hospital of the Pacific patients focuses on peer visitations. The 11 trained volunteers, all stroke survivors, began visiting stroke patients and their families a few weeks ago, offering them emotional support, information on finding resources and encouragement.

This is the first peer visitor program for stroke patients and their families in Hawai'i, a project that Auerbach feels the community truly needs.

"A program like this might've helped me," said the 73-year-old, who still walks with a slight limp. "It could've helped make the coping and understanding much better, to know where the resources in the community are."

Sharing experiences

That's where "Partners in Healing" comes in.

Stroke patients are matched with stroke survivors based on age, gender and type of stroke suffered. Having someone who's gone through a similar experience helps the patient not feel so alone. But only stroke patients at the Rehabilitation Hospital of the Pacific are eligible for this program.

"It gives people a chance to see that people are able to survive and do well after a stroke," said Brian Combs, a clinical psychologist at the Queen's Medical Center who matches peer visitors with patients for the program. "It's also a chance for people to go over what they're feeling with impartial listeners who have been there. It provides something extra that doctors and nurses can't."

Stroke is a lot more common than most people think.

Each year in Hawai'i, about 2,000 residents have a stroke, and at least 600 people die each year from strokes, reports the American Heart Association of Hawai'i.

On average, someone in the United States suffers a stroke every 53 seconds. Someone dies of a stroke every 3.3 minutes. It ranks as the third-leading cause of death, behind heart disease and cancer.

Stroke is the loss or alteration of bodily function that results from an insufficient supply of blood to part of the brain. There are two different kinds of stroke: Ischemic stroke, when the blood vessel clogs; and hemorrhagic stroke, when the vessel ruptures, causing blood to leak into the brain.

There are about 4.5 million stroke survivors today, making them invaluable resources for helping others with their recoveries and spreading the word about prevention.

"We probably don't have a good enough understanding of stroke," Combs said. "Hospitals are trying to push (the mindset) that stroke is an emergency kind of situation, to call it a 'brain attack.' It's urgent and it needs treatment right away."

Importance of support

What many people don't realize is how stroke can affect the entire family, not just the survivor.

"For a stroke survivor, it's a real upheaval as you can imagine, because life changes," Auerbach said. "Your family is directly affected."

When he suffered his second stroke, the most severe one, his wife faced the daunting challenge of being a caregiver while working full time. Auerbach retired from Kamehameha Schools Bishop Estate and spent months in recovery. His wife had to take on more responsibilities, from dealing with the finances to doing all the yard work at their Nu'uanu home.

"The caregiver is the most important thing in a stroke survivor's life," Auerbach said. "My wife was an example of an outstanding caregiver."

But surviving a stroke is just part of the road to recovery.

"Recovering is a challenge of a different kind," Auerbach said. "You need to make a conscious decision and deliberate effort to get better."

Peer visitors can play a role in helping a patient recovery. They can offer hope and practical advice from their own experiences to patients, family members and caregivers.

"The social support for families is very important," Combs said. "And this program provides a link (for) recently affected stroke patients to resources and support groups."

Now, Auerbach has his life in perspective. After going through therapy at the Rehabilitation Hospital of the Pacific, he joined as a volunteer. He walks almost every day at Kahala Mall and limits his salt intake. He speaks to survivors, educators, seniors and community members when he can, preaching the importance of prevention and peer support.

After all, he's happy to be alive.

"Every day I get up breathing is a good day," he said.