By Catherine E. Toth
Advertiser Staff Writer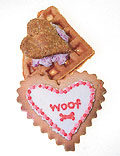 Get those leashes ready.
Hawai'i Doggie Bakery & Gift Shop has opened a second store, this one at Ward Warehouse. And the owners are celebrating in style.
Though the store already is open, its grand opening is slated for noon next Sunday. Ipo, the store's golden retriever mascot, will arrive at noon in a limousine, sporting a pink feather boa.
Much larger than the original store on King Street, this one will feature an exhibition-type kitchen where folks can watch bakers prepare canine culinary treats such as Hiwa's Honey Hearts ($2.25). This location will feature more home furnishings for dogs, along with the popular upscale collars, a jewelry line for pet lovers and, of course, doggie treats. Store (and dog) owner Jen Kunishima also plans to bring in photographers who specialize in pets.
"It's just a bigger and better boutique for dogs," Kunishima said. Cats are welcome, too: The store offers a Kitty Corner, with items for cats and cat lovers.
Warning: Ward Warehouse doesn't allow pets.
Hours: 10 a.m.-9 p.m. Mondays-Saturdays, 10 a.m.-5 p.m Sundays. Call 521-PAWS or click on www.hawaiidoggiebakery.com.