By Kim Welch, Kelly Perry and Ati Jeffers-Fabro
Special to The Advertiser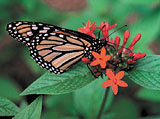 The monarch is among the most colorful species.

Advertiser library photo • October 1997

Splish! Splash!

Large raindrops fell from the sky as a rainstorm engulfed the city. Detectives Andy Anole and Penny Pinao took shelter in the Hawai'i Nature Squad room.

Captain WÇkiu emerged from his chilly office with a grin on his metallic, black face. "Ah, my two favorite detectives," he exclaimed. "I have just the case for this weather."

"Captain, have you noticed?" interrupted Andy. "It's pouring outside."

"Precisely!" Captain WÇkiu replied. "We have a case to solve: Kiera O'Connor has written to us, asking us to find out where butterflies go when it rains."

"I can think of dozens of places they could use for shelter," said Andy.

"You didn't let me finish," scolded the captain. "Kiera also wanted to know if butterflies used the bathroom."

Penny and Andy looked at each other. Andy felt a surge of cold lizard blood rush to his cheeks. Penny, sensing his embarrassment, rushed to his aid and said, "Captain, I'll take the case."

"I'm afraid you'll both be on this case," sighed the captain. "Several detectives are out sick."

Regaining his composure, Andy exclaimed, "OK, sounds like an intriguing case. I'll go through my list of wet weather informants!"

"I know where I might find a few butterflies in this deluge," added his dragonfly partner. "We flying insects like to hang out in some interesting places during rain showers."

"I guess I'm stuck with the second part of our mystery," complained Andy. "This could be a real stinker, if you know what I mean."

"We'll meet at the flower garden across from the zoo at noon," suggested Penny as she flew toward the door.

"I'll see you then," Andy called back. "Keep dry!"

Penny made her way toward the zoo, being careful to stay out of the rain showers. She stopped to rest under an outcropping of boulders. The buzz of insects seeking shelter was louder than the rain.

"Has anyone noticed butterflies in the vicinity?" Penny called out.

"Who wants to know?" said a voice from between the boulders.

Out crawled two majestic monarch butterflies. They flexed their large orange and black wings, then faced Penny.

"Detective Penny Pinao of the Hawai'i Nature Squad here," said Penny, flashing her badge. "We're trying to learn where butterflies go during the rain."

"Well, I'm Max, and this is Cleo, my mate," said the male. "Here's your answer: When it rains, we fold our wings while at rest, so it's easy to hide under dense leaves or rocks."

Cleo chimed in: "If we don't hold our wings tightly, they may tatter, and we'll die."

Penny paused before inquiring further, remembering Andy's embarrassment. She inquired nervously, "Uh, one more question, if you don't mind: Do butterflies poop?"

The butterflies chuckled. "We do all our pooping when we're caterpillars," Max said. "As butterflies, we drink liquids to maintain our water balance and energy stores. No poop, but when we drink too much, we emit a fine spray that is almost pure water."

"Wow! Would you mind flying across the street with me? My partner has to meet you!" Penny asked.

"Sure! We sure could use a sip of nectar from those flowers over there," they called out as they fluttered away.

Have you seen something unusual in nature that you want the Hawai'i Nature Squad to investigate? Send us a letter with your name, age, school, name of parent(s) and telephone number. Mail it to Hawai'i Nature Squad, c/o Hawai'i Nature Center, 2131 Makiki Heights Drive, Honolulu, HI 96822, or fax 955-0116. You may e-mail hawaiinaturecenter@hawaii.rr.com only if you're 13 or older.

"Hawai'i Nature Squad" is written by Kim Welch, Kelly Perry and Ati Jeffers-Fabro of Hawai'i Nature Center, an environmental education organization. It alternates with "Dr. Gadget's Science Machine."