By Catherine E. Toth
Advertiser Staff Writer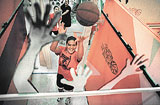 Brandy Richardson, Kalaheo High School senior and a two-time state girls basketball player of the year, puts in extra shooting practice at Shootout, a new indoor basketball facility in Kane'ohe.

Cory Lum • The Honolulu Advertiser

Shootout

Where: 46-026 Alaloa St., Bay 1, in a warehouse in Kane'ohe near Windward Mall

Cost: $10 an hour per lane; up to three people can rent one lane ($5 an hour for kids under age 8); $20 an hour extra for one-on-one tutoring (by appointment only)

Hours: 5 to 9 p.m. Mondays through Fridays, 9 a.m. to 9 p.m. Saturdays and Sundays

Information: Call to make reservations at 235-2500.

Hoku Tobin had never played basketball in his life.

So when the 9-year-old casually walked into Shootout, an indoor basketball facility in Kane'ohe, he had a lot to learn.

Dribbling, shooting, rebounding - those are just a few skills Hoku has learned from practicing at Shootout. He has also gained self-confidence and self-control.

"It's not only improving his physical skills and how he plays the game," said his mom, 37-year-old Georgetta Tobin, who commutes from Village Park to Kane'ohe twice a week. "It has helped his character. It teaches him about being a good person."

That has been the underlying mission of Kawika Crowley, owner, resident coach and "uncle" for the loyal group of kids who make Shootout their hangout.

In a warehouse near Windward Mall, the Shootout, which opened in November, is a safe haven for neighborhood kids. They come to improve their skills, hang out with friends or just kill time. On the walls are positive sayings, such as "Shoot to the Top" and "Never Give Up."

Crowley patiently works with anyone who asks for his help. He gives them practical basketball tips and advice on life.

His heart is with the kids, but his head is in the business. He sees Shootout as revolutionary for basketball as batting cages were for baseball. He has plans to convert to computerized rotating hoops and eventually go global.

"It's like I invented the hamburger," he said. "It's so simple. And I'm trying to convince everyone this is the greatest hamburger on Earth."

The concept is simple: Four 10-foot-high, regulation-size hoops are set up in lanes. (One basket can be lowered to eight feet for children.) Each lane has its own personality; one is 4à wide, for instance, while another is 5 feet wide.

The pole, backboard and rim can be spun to provide every angle and shot you would get on an open court. So instead of having to walk around the basket to work on specific shots, players can rotate the hoop and shoot from one place.

A net below each basket catches the balls, which roll back to the player - a feature that seems to be a favorite among the regulars.

"You don't have to rebound (the ball)," said Brandy Richardson, 17-year-old senior and a star player on the Kalaheo High Schoolgirls basketball team. "It just rolls right back at you. And you don't have to move to shoot different angles."

Practice may not make perfect, but it can help you come close.

Pat Murphy, a seventh-grader at Kailua Intermediate School, has seen his free-throw percentage improve markedly since he started practicing at the Shootout three days a week. At the beginning of basketball season, the

12-year-old made three of 10 free throws; now, he consistently hits eight out of 10.

"I like that you get the same shots every time," said Pat, who idolizes the Los Angeles Lakers' Kobe Bryant. "And you don't have to chase the ball. I noticed an improvement. I shoot a lot better."

And some kids, like Hoku, are seeing improvements elsewhere. Namely, inside.

"I like it because I can play better," he said. "I like talking to Uncle Kawika and practicing my shots. I learn to just try not to get upset."

"Going home, he talks about what he's done," Hoku's mom said.

"He's so tired, but fulfilled. The change I've seen in him, as far as improving his character, is well worth the drive."