By Gary Kiyabu
Special to The Advertiser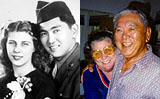 Melvin and Lavern Kiyabu, photographed when they got married in 1946, and now. The Kiyabus live next to Lavern's twin sister and Melvin's cousin, who set up the couple's first meeting.

World War II was definitely a bad time for everyone who was unfortunate enough to be around then, a time full of hard work and unpleasant memories. Not many positives came from that period - unless you consider the meeting of my parents.

Melvin Kiyabu was born in 1924 in Honolulu; his parents had emigrated from Okinawa in 1920. He was exceptionally bright, becoming a great player of the piano, which he learned by ear, and skipping two grades in school, graduating at the age of 16. From there, he kicked around a few jobs to help support his parents and six brothers and sisters, was drafted into the Army in 1945 and went to Minnesota, where he met my mom.

Lavern Johnson was born in Minneapolis in 1927. Her parents emigrated from Sweden in 1897. She was also very bright, but being raised on a farm made her focus on farm work, where she learned the "real life" lessons.

Now, here is where the story gets interesting.

Melvin has a first cousin, and they were raised as brothers. Lavern has an identical twin sister. Melvin's cousin and Lavern's sister met at a YWCA dance (that's another story), dated, got engaged and married.

They then decided to set up their siblings with each other.

The first date was love at first sight, and they knew they'd be together forever - sorry for the clichÚs. After a three-month engagement, they married and moved to Japan for five years, and had Gordon, my oldest brother. They then moved to Minnesota, where Patricia was born.

My dad's work then brought them back to Hawai'i in 1954. My sister Barbara and I were both born here, in 1957 and 1965, respectively.

My mom, being no dummy, opted to settle in Hawai'i instead of Minnesota, California or Oklahoma. (Although I tend not to believe most parents' stories of walking 10 miles to school in the snow, I tend to believe hers.) Here they have been living happily ever after next door to my mom's twin and my dad's cousin for the most part of 40 years in Hawai'i.

To go on about all the crazy things that have happened to them over the years would require a book, and it has been suggested. Some of the better incidents take place in the local Foodland or Safeway, when new employees cannot distinguish between the two Mrs. Kiyabus and wonder how two Caucasian ladies that look identical can have the same Okinawan last name.

Gary Kiyabu lives in Kane'ohe. Melvin and Lavern Kiyabu were married in 1946 in Wisconsin.

Do you have a great love story? What are your best stories or advice on marriage and making the magic last? Do you have a story from your wedding or wedding-planning advice? Send your letter of 500-750 words with your city and phone number to: For Better, For Worse, 'Ohana Section, The Honolulu Advertiser, P.O. Box 3110, Honolulu, HI 96802; e-mail ohana@honoluluadvertiser.com or fax 535-8170. Sending a photo is optional.