By Jan TenBruggencate
Advertiser Science Writer
Fishery interests have proposed a new plan that would allow increased longlining for swordfish, now restricted by federal court order, while studying methods for reducing the inadvertent hooking of endangered turtles.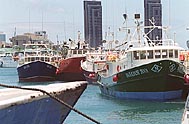 Some of the boats in the longline fishing fleet are shown tied up at Pier 24 in Honolulu Harbor.

Advertiser library photo • Aug. 3, 2000

The plan was advanced by the Scientific and Statistical Committee of the Western Pacific Regional Fishery Management Council. Fisheries scientists on the committee say it would provide valuable data for the overall benefit of ocean turtles.

Opponents say the new Hawai'i fishery plan would not produce significant results.

"This has absolutely nothing to do with science or statistics. It has to do with keeping the swordfish fishery going no matter what," said Paul Achitoff, attorney for the Washington, D.C.-based Center for Marine Conservation and the Turtle Island Restoration Network, which went to court to stop longline hooking of turtles.

A federal court intervened in 1999 to protect the turtles.

Longlining involves setting out a buoyed line miles long with multiple baited hooks. Anglers fishing out of Hawai'i set longlines shallower than 300 feet when they fish for swordfish, and deeper when they fish for tuna.

Federal judge David Ezra last year modified his order, finding that the shallower swordfish rigs tend to hook endangered turtles at a higher rate than tuna rigs. He established a strictly limited fishing process to protect the endangered turtles, with government observers aboard many of the fishing boats.

The limits have been ordered until the National Marine Fisheries Service can complete review of an environmental impact statement and develop regulations to protect the endangered species.

Ezra's order provoked an outcry from many longline fishermen based in Hawai'i, who said the restrictions were eliminating the source of their livelihood.

In 1999, the Hawai'i-based longline fishery hooked or snagged 369 loggerhead turtles, 64 of them dead when brought to the boat; 132 leatherbacks, of which 11 were dead; 45 green sea turtles, of which six were dead, and 164 olive Ridleys, of which 55 were dead.

Many of the released turtles are believed to have died of injuries sustained when they were hooked externally or when they swallowed hooks.

Although all four of these turtles species are protected under the Endangered Species Act, of most concern are leatherback turtles, once common and now down to a few thousand animals throughout the Pacific. Their numbers are believed to be dropping.

The National Marine Fisheries Service's environmental impact statement includes the recommendation that longline swordfish fishing be stopped, while longline tuna fishing would be allowed in all but two months of the year.

Longline represents 40 percent of revenue

Swordfish longlining represents a third of the boats involved in the Hawai'i longline fishery, and about 40 percent of the revenue, said fisheries biologist Paul Dalzell of the Western Pacific Regional Fishery Management Council.

Dalzell said biologists feel there are techniques that could reduce turtle deaths. These could include dyed or scented bait, different hook designs, different times of line setting and different depths.

The council's committee suggests that for three years, anglers be allowed to test the techniques, as long as fishing stops after a set number of turtles have been snagged.

The research could prove the value of techniques that could then be turned over to foreign fishing fleets with no turtle-kill restrictions, Dalzell said.

Dalzell said he hopes the National Marine Fisheries Service will consider the new proposal.

"We've just been asked to evaluate a couple of management proposals, and both of them include turning off the swordfish fishery altogether," said Pierre Kleiber, a fishery biologist with the fisheries service.

Kleiber said there would be value in gaining data about techniques to reduce injuries to turtles.

"We're getting to the point where the strict legality is getting in the way of our stewardship. One hopes that if (the turtle interaction research) doesn't get done here, it will get done somewhere else," he said.

Earthjustice's Achitoff responded that the results of Hawai'i-based research would be invalid because, scientifically speaking, anglers here don't hook enough turtles.

"They catch enough turtles to be a meaningful threat, but ... the rate of the catch is too low to come up with statistically reliable information," he said.