By Eloise Aguiar
Advertiser Windward Bureau
Today they're being trained and finding jobs as nurses' aides, construction workers and farm hands with the help of Windward residents.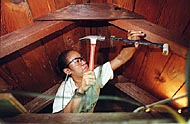 Lesley Grant works in the attic of a home on Kiele Ave. Nineteen months ago, opportunities increased for prisoners at the Women's Community Correction Center in Kailua.

Cory Lum • The Honolulu Advertiser

"The community has really embraced them, and the women have embraced the community," said John Kellam, prison warden.

An average of 255 women are in the Kailua facility daily. As many as 85 percent are there for drug-related crimes and were subjected to abuse and manipulation, said Kellam. In prison, the women can kick their drug habits, examine their lives and gain self-respect through their accomplishments, he said.

But the women must earn these opportunities, said Kellam, who served as warden for WCCC from 1992 to 1994 and returned in June 1999.

Once women complete drug and other rehabilitation, they are taken out twice a week to clean Kailua Beach. During these cleanups they've met many residents who have befriended them, including Rotary members, Kellam said.

It was a beach cleanup that led to success for two inmates.

Marlene, 32, and Kerrie, 21, recently obtained certification in CPR and first aid. Both said they want to continue their training to become nurses.

"I never thought of doing this before," said Marlene, who, like Kerrie, didn't want her last name used because she didn't want people to know she was in prison. "Maybe I had to be incarcerated to do this, to figure that out."

The women researched a nurses' aide training program they found in a newspaper advertisement. They were required to write a proposal to gain permission to leave the facility for training, and pay for the training themselves. Certification was more expensive.

The Windward Coalition of Churches learned about the women's need at a beach cleanup and offered them a scholarship. Cheryl Renfroe, scholarship program administrator, said normally scholarships go to inmates who are on parole and living in a halfway home, but she didn't hesitate in granting their request.

"When you help these women, you're also helping their kids," she said, adding that society also benefits. "The more stable the mother can be, the better off the children will be."

Other inmates have participated in construction projects and have become involved in a training program called Building Woman, initiated by Wahine Builders, a Kane'ohe construction company.

Clarice Cornett and Sara Banks, owners of the business since 1986, have trained three Kailua inmates and two other parolees while building a Honolulu Habitat for Humanity home. The trainees are now eligible to enter apprenticeship programs and have earned two-year community college scholarships.

"The whole idea is to reach out to women interested in construction and maybe even to women who never thought about it as an alternative for them," Cornett said. The program is struggling financially, but Cornett said the inmates have proven to be willing and very capable in the field.

"They've been the hardest-working, most willing to learn and most dedicated apprentices I've seen in five years," said Banks.

With the women's success in construction, Kellam said, he wanted to try another field and has asked Dean Okimoto, of Nalo Farms in Waimanalo, to train women in food processing.

Okimoto said he was reluctant at first, but once he spoke to the women at the prison, he decided to give them a chance.

Three women were to begin learning about harvesting, planting and processing this month.

"Their enthusiasm made me want to do it," Okimoto said.