By Susan Roth
Advertiser Washington Bureau
WASHINGTON — U.S.Rep. Neil Abercrombie has rejoined forces with proponents of repealing the estate tax.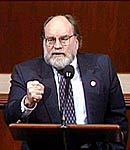 Neil Abercrombie and other Democrats are offering an alternative to a bill repealing the estate tax that was vetoed last year.

Advertiser library photo • Dec. 18, 1998

Abercrombie (D-Hawai'i) was one of 24 Democrats among the 175 House members who were original co-sponsors of the "Death Tax Elimination Act of 2001" introduced by John Tanner (D-Tenn.) and Jennifer Dunn ( R-Wash).

A similar measure won broad bipartisan approval in the last Congress, but died with a Bill Clinton veto.

The new version calls for a 10-year phase-out of the tax survivors pay on inherited property. Under the current scale, a graduated rate of 18 percent to 55 percent is imposed on estates valued at up to $10 million, with an exemption allowed for the first $650,000. The tax has forced some survivors to sell the estate or assets to pay their taxes.

"The inheritance tax doesn't make sense or operate fairly," Abercrombie said. "The super rich avoid the tax by using high-priced lawyers, accountants and financial planners to find the loopholes. But if you own a coffee shop, beauty parlor or landscaping business, your heirs can get hit with a huge tax bill. All too often, the business has to be liquidated and the employees wind up in the unemployment line."

In June, Abercrombie conducted a video teleconference with Hawai'i small-business owners, who shared their frustrations with the estate tax. They noted that the state's high real estate values often escalate estate valuations, subjecting them to disproportionately higher inheritance taxes.

During a news conference to outline their proposal, Tanner and Dunn said they have broadened their base of support by reaching out to minorities, women and environmentalists.

The co-sponsors acknowledged the political climate for repeal should be more favorable under a Republican administration. President Bush has proposed repealing the inheritance tax as part of his broad $1.6 trillion tax-cut package.

"The White House has talked in general terms about repealing the death tax, phased in as John Tanner and I have planned from the very beginning," Dunn said. "Since (Bush) is a president who keeps his word, we fully expect to have it before the House and Senate by late spring."

Tanner seemed less sure the bill could be approved without some tweaking. Some Democrats, including Abercrombie, in the past have leaned more toward reducing the tax than outright elimination.

Tanner joined with Abercrombie and other Democrats to offer such a compromise measure last year after Clinton's veto, but the proposal died in Congress. Tanner seemed open to trying again.

"This bill is a step in the right direction," he said. "Around here, the perfect becomes the enemy of the good."