By Dennis Anderson
Advertiser Staff
Nicole Garbin's reality was even better than the dream.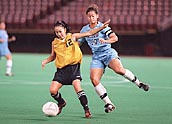 Nicole Garbin of Baldwin takes control against Mililani. Garbin scored both goals in Baldwin's 2-0 state soccer championship victory.

Cory Lum • The Honolulu Advertiser

Playing under the weight of a yellow card, Garbin scored two goals in the second half last night to lead Baldwin High to a 2-0 victory over Mililani for its second straight Meadow Gold Girls State Soccer championship at Aloha Stadium.

Garbin was assessed a yellow card in the final minute of the scoreless first half for a high kick, and would have been ejected had she been carded a second time. But she continued to play aggressively and worked herself in position to score.

"Coach Kawika (Keator) told me not to worry about another card," Garbin said. "He said I still had to play my game."

Last Sunday, Garbin said she had a dream that Baldwin would win the championship again and she would be an important part of it.

Important doesn't begin to describe it. The state's 2000 Player of the Year scored four goals on Thursday as the Bears came from behind three times to beat Kailua 5-3. Last night's two-goal performance gave her six for the tournament and 22 for the year.

"It was better than the dream," Garbin said.

Garbin's first goal, 10:30 into the second half, came off a corner kick by Alana Souza and broke a scoreless tie.

"I was at my spot, on the 18 (top of the penalty area), when Alana kicked and I said to myself, 'This is it Nicole, you gotta put it in.' "

Souza put one of her many perfect corner kicks of the week high at the penalty spot and Garbin headed it over leaping goalkeeper Eryn Kishimoto.

Her second goal, Garbin said, was a matter of being "at the right spot at the right time."

On a play beginning again with a Souza corner kick, the ball skipped off Shawna Shimamura to Janelle Anoba, who ripped a kick to the near post. It carromed back right to Garbin, who headed the rebound past Kishimoto.

Souza was in on the dream, too.

Her five textbook corner kicks last night were "just the way I dreamed it."

And she also had an explanation why Baldwin didn't score in the first half.

Before every game, coach (Keator) tells us, "score early and score many." Tonight, he forgot. He apologized at halftime and told us then."

Baldwin charged out aggressively in the second half, getting six shots to two for Mililani after each team took only three in the first half.

Garbin could have had another score at 59:16, but it was ruled no good. Shimamura drilled a kick from 30 yards that skipped off Kishimoto's hands, hit the bottom of the crossbar and dropped into the goal. The ball bounced back to Kishimoto and was ruled a save, although television replays showed it had hit the ground beyond the goal line and should have counted.

"We played the best team in the state almost up and up," Mililani coach James Uson said. "Baldwin is a great team. We tried our best to give them a good game, and we did that."

Mililani co-captain Jenn Iha, choking back tears, said, "It was anyone's game. They just hit the ball into the net and that's what counts."

It is Baldwin's second state championship in two weeks, following the softball team's victory over Kamehameha on Feb. 3.

A total of 2,512 attended yesterday's four games.

Unseeded Mililani reached the final by beating King Kekaulike, No. 3 seeded Punahou and No. 2 seeded Pearl City. Baldwin, the top seeded team had to come from behind three times to defeat Kailua in its first game, and dispatched Big Island champ Hawai'i Prep in its second game.

The Bears, who had never played in a state championship game before last year, have now won 30 straight regular- and post-season games.

In the Maui Interscholastic League, Baldwin has won four straight championships and 60 games in a row. The Bears' last loss in MIL play was to Seabury Hall in the 1996-97 season.

Five of last night's Baldwin starters were all-state last season. Garbin was state Player of the Year and Shimamura and Koren Takeyama were first team all-state; Souza and Mahie Atay were second-team.

Garbin, Shimamura and Souza are seniors; Takeyama and Atay return next season.

Garbin started all 53 games in four years and Baldwin's record is 53-0 with her.

Garbin is considering scholarship offers from Hawai'i, Oregon State and San Francisco. She has visited San Francisco and will visit Oregon State next weekend.

Mililani won state championships under coach Charles Esperas in 1988 and 1994. Uson was an assistant in '94; last night was his first state championship game in five years as head coach.
MILILANI 0 0 — 0
BALDWIN 0 2 — 2
Regulation — Baldwin (Nicole Garbin 50:30, 70:00).
Shots — Mililani 5, Baldwin 9.
Saves — Mililani 2, Baldwin 0.\
Goal kicks — Mililani 15, Baldwin 13.
Corner kicks — Mililani 4, Baldwin 5.
Fouls — Mililani 12, Baldwin 8.
Offsides — Mililani 0, Baldwin 0.
Yellow cards — Mililani 1, Baldwin 2.
THIRD PLACE
Hawai'i Prep 1, Pearl City 1: Hawai'i Preparatory Academy and Pearl City played to a 1-1 tie in the third-place game of the Meadow Gold Girls State Soccer Championships yesterday at Aloha Stadium.
The game was called after regulation by a time limit.
Hawai'i Prep's Jizelle Yates scored at 13 minutes, 29 seconds on a penalty kick and Pearl City's Carmen Calpo tied it with a goal at 41:24.
Pearl City and Hawai'i Prep finished with 12-2-1 records.
FIFTH PLACE
Kailua 0, Punahou 0: The Surfriders, who came close to upsetting Baldwin on Wednesday, and the third-seeded Buffanblu were clearly worn out.
Kailua managed only three shots and Punahou seven in the game, which did not go into overtime because of a time limit.
Kailua finished 11-3-3 and Punahou 10-1-4.
CONSOLATION FINAL
Waiakea 0, Hilo 0: None of the Vikings' 8 shots got close enough to require a save by Warrior goalkeeper Shelley Izuno. Hilo goalie Kathy Johnston stopped three of Waiakea's eight shots. A time limit stopped the game.
Hilo finished 13-4-2 and Waiakea 11-4-1.
BOYS SOCCER
Pearl City top seed: O'ahu Interscholastic Association champion Pearl City was awarded the No. 1 seed in next week's Hawai'i High School Athletic Association boys state soccer championships.
Defending champion 'Iolani, the Interscholastic League of Honolulu champion, was seeded No. 2; Baldwin, the Maui Interscholastic League champions, No. 3; and Hilo, winners of the Big Island Interscholastic Federation, No. 4.
Pearl City roared through the OIA with a 12-0-0 record, outscoring opponents 60-3.
Baldwin was unbeaten on Maui, and 'Iolani beat out Kamehameha and Punahou in the final week for the ILH title.
The eight unseeded teams open the tournament Wednesday at Aloha Stadium. Hawai'i Prep plays Campbell at 1:30 p.m., Kapa'a meets Kalani at 3:30 p.m., Kamehameha plays 'Aiea at 5:30 p.m. and Mililani meets Kealakehe at 7:30 p.m.
The winners advance to the quarterfinals Thursday against the seeded teams.
Kamehameha 4, King Kekaulike 1: Kekoa Smith scored two goals and the Warriors dominated the second half to earn the final berth in next week's boys state tournament.
Smith, a sophomore who was not on Kamehameha's roster at the start of the season, had a memorable week. On Wednesday he scored the only goal as the Warriors upset defending state champion 'Iolani, 1-0.
That victory jumped the Warriors ahead of Punahou into second place in the final Interscholastic League of Honolulu standings and earned them the right to travel to Pukalani, Maui, for yesterday's game with King Kekaulike.
In the first half, Kamehameha scored first on Nate Silva's overspin kick from 22 yards, just outside the penalty area on the right side, that dipped just under the cross bar.
Na Ali'i tied the score at 26:20 when Justin Green juked two players on the right side of the penalty area and put a low shot into the lower left corner.
In the second half, Smith was not to be denied. Left all by himself on the right side, he put Kamehameha ahead 2-1 with a 6-yarder 3:32 into the second half.
Gabriel Chan scored a header off a corner kick for a 3-1 Kamehameha lead at 62:30 and Smith added the exclamation mark on a breakaway at 79:30.
BOYS BASKETBALL
Punahou is in: Punahou earned the Interscholastic League of Honolulu's second state boys basketball tournament berth with a 44-40 victory over St. Louis yesterday.
St. Louis led through the first three quarters, but was outscored by Punahou 20-13 in the final quarter.
St. Louis goes into a six-team tournament starting Wednesday to determine the ILH's third state tournament team.
PUNAHOU 5 12 7 20 — 44
ST. LOUIS 6 17 4 13 — 40
PUNAHOU — Kynan Pang 8, Richard Kim 9, Daniel Lam 0, Andrew Amigleo 2, Todd LaFountaine 5, Jason Ching 0, John Freese 0, Alex Fergus 4, David Dowsett 3, Lucas Love 0, Ryan Zabriskie 6, Dane Uperesa 7.
ST. LOUIS — Bobby Tappy 0, Jose Vidad 6, Justin Harris 5, Jonah Lakatani 10, Brenden Clement 4, J.P. Kanoa 0, Jason Rivers 7, Frank Rivers 4, TJ Moe 4, Artist De Wolff 0.
3-point goals — Punahou 2 (Kim, Dowsett). St. Louis 1 (J. Rivers).
SWIMMING
Champions: 'Iolani won the boys title and Punahou the girls title at the Interscholastic League of Honolulu Swimming and Diving varsity championships at Punahou yesterday.
In the O'ahu Interscholastic Association championships, Roosevelt won the boys title and Kaiser won the girls title at Kalani.