By Stacy Kaneshiro
Advertiser Staff Writer
Matt Le Ducq earned the first pitching victory of his Hawai'i baseball career yesterday. But his performance was more like a save.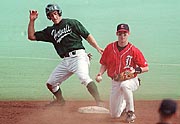 Hawai'i's Patrick Scalabrini toed the bag after stealing second base in the third inning of yesterday's game. Louisville shortstop Adam Haley took the late throw.

Cory Lum • The Honolulu Advertiser

The Santa Rosa (Calif.) junior college transfer pitched 4 2/3 innings of scoreless relief to help the Rainbows beat Louisville, 10-2. The win halted a three-game losing skid for the Rainbows and evened the three-game series.

Le Ducq (1-0) inherited a one out, bases loaded situation in the top of the third inning from UH starter Sean Yamashita. The 6-foot-1, 200-pound left-hander struck out Morgan Bojorquez, then got Fernando Isa to ground to shortstop for a force to minimize damage in Louisville's two-run inning.

"That was great," UH captain and third baseman Patrick Scalabrini said. "We needed something like that. I'm glad somebody finally stepped up like that."

While Le Ducq prevented a potential big-inning by the Cardinals (1-5), Louisville starter Garrett Estabrook and reliever Carlos Fernandez (0-1) didn't. The Rainbows responded with a four-run third inning, sparked by Chad Boudon's three-run home run, his third of the season.

His blast over the original left field wall did not sound like it was hit hard.

"It went off my bat pretty well, but I don't think I hit it on the barrel," Boudon said. "Something was right about it."

The right thing about it was that it came with runners on base, a problem with UH hitting during the losing streak.

"We had to score runs, but most importantly, we had to hit with runners in scoring position," Boudon said.

The game centered around the third inning. Yamashita, who lasted only eight batters after getting one out in his last outing, hurt himself in the inning. After allowing a single and hit batsmen, he struck out Dave Williams. Then it appeared that Yamashita was going to escape harm when Mike Hook hit a comebacker to Yamashita for what appeared to be an inning-ending double play. But Yamashita's throw to second base was wide, loading the bases. The next two batters walked to give Louisville a 2-0 lead.

But in came Le Ducq, who ran a full count on Bojorquez, who struck out looking on a breaking pitch.

"I just knew 3 and 2, he wasn't going to be sitting on a breaking ball," Le Ducq said. "And I knew I could throw it for a strike, so I threw him a breaking ball and he didn't swing."

Said Hawai'i's acting coach Carl Furutani: "He kept us in the game and gave us an opportunity to win. What we've seen from him, there were indications that he was going to do that kind of stuff for us. He's going to play a big role for us."

That role could be as a middle reliever or spot starter. "It gives us an option," Furutani said.

Scalabrini, who had three hits the night before, ignited UH's four-run inning with a one-out single and stolen base. He then scored on the first of two RBI doubles by Gregg Omori.

After Estabrook's departure, Fernandez walked Danny Kimura then served up Boudon's homer.

Boudon had an unusual line, batting 1-for-1 with a hit batsman, walk and two sacrifice flies and five RBIs.

Scalabrini, who was 2-for-3 with a double and three runs, made two diving stops to the hole. First, he robbed Isa of a hit by snaring a line drive in the second inning and then snatched another on Kevin Fishback's hard grounder in the ninth.

Gavin Garrick, who had been the Game 3 starter of the previous two series, pitched the final two innings without allowing a run.

The series concludes today with Chad Giannetti making his starting debut for the Rainbows against 6-foot-8 Denny Williams. Game time is 2:05 p.m.
Tosses: Shane Chan started in center field yesterday for Derek Honma, who sustained a right rotator cuff strain after sliding head-first into home in Friday's game. Honma is day-to-day.
UH-HILO
Vulcans even series: Kaliko Oligo's two-out, two-run single in the bottom of the ninth rallied Hawai'i-Hilo over Nevada, 4-3, yesterday in a Western Athletic Conference game at Wong Stadium.
The Vulcans (2-8, 1-1 WAC) trailed the Wolf Pack (2-6, 1-1), 3-1, entering the bottom of the ninth.
Against Nevada reliever James Holcomb (0-1), Billy Rayl led off with a single and left for pinch runner Daniel Rhodes. After two fly outs, pinch hitter Douglas Rhodes and Justin Kaneshiro hit consecutive singles to load the bases.
George Moran replaced Holcomb and walked Brian Rooke to force in a run before Oligo's game-winning hit.
Vulcans' starter Ben Siff allowed eight hits in 7¡ innings before giving way to Sergio Reyes (1-0), who pitched the final 1á innings.
The rubber game of the three-game series is at 1 p.m. today at Wong Stadium.
The Wolf Pack travel to Honolulu for a WAC series with the Rainbows starting Thursday.