Read more about golf in our special Golf Report

By Ann Miller
Advertiser Staff Writer

KEAUHOU, Hawai'i — There's a new LPGA sheriff in town, eh?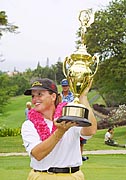 Lorie Kane and her trophy after winning the LPGA's Takefuji Classic yesterday.

Associated Press

Lorie Kane continued her torrid chase of Annika Sorenstam and Karrie Webb, flying by the fearsome twosome and winning the LPGA Takefuji Classic yesterday at Kona Country Club's Ocean Course.

Kane, who is from Prince Edward Island in Canada, closed with a course-record 6-under-par 66, and a tournament-record 11-under 205.

She teed off in the final group, trailing Sorenstam by two shots and tied with Webb. Immediately, Kane teed off on the two players who have terrorized this tour — and everybody else — for the past six years.

Kane birdied the first two holes and yanked first place from Sorenstam when she bogeyed the third.

From that moment, it was Kane's tournament. It just took five more birdies and four more hours of excellence for her to win $127,500 and her fourth tournament in 14 starts. It took Kane 125 tournaments to get her first win.

"Before, I was trying too hard," Kane admitted. "Way too hard."

Even Webb and Sorenstam — future Hall of Famers — can't claim the sizzle of Kane's recent streak, much as they could not match her brilliance yesterday, along with everyone else.

"I have never seen her play this good ... ," Sorenstam said. "She was just so solid, really consistent — her short irons, long irons, and she was putting really well too.

"She is one of the hottest players. She's won more than anybody the last couple months. She has matured a lot as a player. We all knew how good she was, it was just a matter of time. Now she knows it."

Kane was so comfortable yesterday she let loose from the first fairway. All six of her birdie putts were within eight feet; her seventh birdie was a 15-foot chip-in she hit dead, solid, perfect — precisely the way she was launching her drives and executing her approach shots.

Kane was in her element, on a course strangely void of elements in this weird weather week, but suddenly full of flag-waving Canadians.

"To be honest, I didn't think about winning the golf tournament until I hit my last shot into the green on 18," Kane said. "I've just never played a round of golf where I have been so calm. I was very patient and confident with the way I was swinging the club. And it all started with the way I was warming up this morning. I just had very good feelings."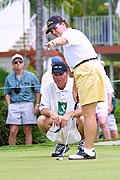 Lorie Kane and caddie Danny Sharp lined up a putt on the 15th green in yesterday's final round of the LPGA's Takefuji Classic. Kane shot a 66 to win by two strokes.

Associated Press

Sorenstam also felt comfortable, but her score didn't show it until it was too late. She played the front nine in 2-over par to fall what proved to be too far too behind. She missed four greens on the front — one more than in her previous 36 holes — and five putts from within 10 feet.

"It seemed like every putt I missed was on the high side," she said. "It was like I was over-reading them. So when we came to the 10th, after five of those, I shot straight at the hole and started making them."

By the time she sank a meaningful putt, Sorenstam was four back. Far too far with Kane appearing vulnerable only once: She three-putted the 14th for her only bogey in the final 40 holes.

Sorenstam (70) closed with birdies on her last three holes to surge into second . She launched her second shot to the back of the green at the 18th (457-yard par-5) to seize one last chance: Sorenstam needed that 40-footer for eagle, and a Kane three-putt to tie and go to a playoff a second straight year.

Sorenstam missed and Kane did not blink, lagging close to clinch the 11th Top-10 finish of her fabulous 14-start streak. It is a start, she admitted, to closing in on Sorenstam and Webb.

Cristie Kerr (69) finished in third alone, three shots back. Pat Hurst (69) and first-round leader Maria Hjorth (67) tied for fourth at 209; Hjorth was nine under going into the final hole, but pushed her drive into the rocks and closed with double bogey. It was Hjorth's first Top-10 finish in nearly a year.

Webb, who beat Sorenstam here a year ago, birdied two of her last three to finish fifth at 71-210. It is her third top-five finish in four starts this year.

In Sorenstam's first event of the year, she finished second, again, in Kona.

"I'm close," she said, managing a smile. "This is the same score as I had last year. This time, I was under par in the final round, which I haven't been in a while. You know, when someone shoots a course record, it just wasn't meant to be.

"I like this place. This golf course fits my game. It demands good tee shots, precise irons and you have to have imagination on the greens. I'll be back."

Sorenstam, Kane, Webb and nearly all the players from Takefuji will go to Oahu this week for the Cup Noodles Hawaiian Ladies Open, Thursday-Saturday at Kapolei Golf Course.
SHORT PUTTS: The 34-year-old Ocean Course keeps no official records so is calling 66 the course record. ... Lorie Kane has finished among the Top 12 on the money list all four years she has played the tour full time. She won the Heather Farr Award, for perseverance in 1998, and the William and Mousie Powell Sportsmanship Award last year.