By Wayne Harada
Advertiser Entertainment Editor
Alice Walters is excited about her debut on "Wheel of Fortune" but she's not certain if she wants to watch herself.
'Wheel of Fortune'
6:30 p.m. weekdays
KHON-2 (Oceanic 3)

"I was there with my sister, Dorothy Dutra, who lives on Kaua'i, but I don't know what happened. There were so many pauses during the taping."

Walters, a sales and reservations employee at Outrigger Hotels, and her sister, who works at a financial institution on the Garden Island, are among the first islanders appearing and competing in the first of 10 Hawai'i-filmed "Wheel of Fortune" shows, taped in Waikiki last month, that will begin airing at 6:30 p.m. today on KHON-2.

The syndicated game shows, with Pat Sajak as host and featuring letter-turner Vanna White, will showcase Island competitors eager to solve puzzles amid a tropical backdrop. This week's programs, themed "Family Week in Hawai'i," pairs relatives (parent-child, or siblings) competing for cash and prizes, from a mammoth set erected on the beach of the Hilton Hawaiian Village's Rainbow Towers. Next week's shows, "Hawai'i Week," will depict individual Island residents competing.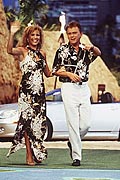 Vanna White and Pat Sajak in Hawai'i: "Wheel of Fortune" will spin out 10 Island-taped shows, starting tonight.

Steve Crise

Other teams on tonight's show are Edward Alconcel and Arnold Alconcel and Venusto Abellera and Kathryn Abellera.

"I think it's 50 percent skill and 50 percent luck," said Walters, who is a nightly "Wheel" watcher. "At the taping, you have to be oblivious to all that's happening around you, and concentrate on the puzzle. For instance, a helicopter flew above the night of our taping, and everybody waved; Miss America (Angela Perez Baraquio) was a guest, too."

Walters and Dutra were among 10,000 initial applications yearning to spin the "Wheel" last December. Through an audition process, the field was whittled down to 800, then the finalists for on-camera competition.

The tapings last month were the third in the Islands and the second at the Hilton Waikiki site. Two years ago, the production visited the same beach; in 1996, "Wheel" spinners competed at the Hilton Waikoloa Village on the Big Island.

The winter visits are deliberate, as are the February air dates — during the sweeps — because "Wheel"-watchers on the Mainland typically are experiencing frigid weather and tourism officials hope Hawai'i's balmy trades, and sunny weather will induce them to plan a visit to the Islands. As a travel industry employee, Walters said: "What 'Wheel of Fortune' does for the Hawai'i travel industry is tremendous, a big boost."

Contestants who wind up on the show cannot reveal the outcome, but their friends and relatives know that they will be appearing on the final shows. "It's such a conversation piece, when your family and friends know you're going to be on," said Walters. "It was a great experience."

To further boost interest in the two-weeks' worth of "Wheel," KHON will present a series of behind-the-scenes reports on the Channel 2 "News at Ten."

"Wheel of Fortune" is the No. 1 syndicated game show and is produced by Columbia Tristar Television.