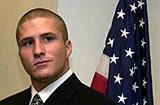 Napster co-founder Shawn Fanning released software in 1999 that makes it easy for users to share music files over the Internet. Record labels have sued Napster, claiming copyright violations, and a landmark ruling is expected today. See story.

Associated Press
Firms thrive on headaches
Using a professional employer is often a way of avoiding high workers' comp rates, obtaining better benefits at lower costs, re-employing valuable workers who have retired, or eliminating human resources hassles.

Court to rule on Napster
Major record labels hope today's long-awaited appellate court ruling in their case against Napster Inc. will force millions of computer users to pay for music the online music swapping service has allowed them to get for free.