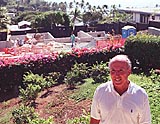 Clark Hatch, president of the East Diamond Head Association, stands in front of 3857 Poka St. Hatch said he believes the home's planned 25-foot height should be illegal.

Deborah Booker • The Honolulu Advertiser
Newspaper sale court order
On Nov. 9, a federal judge approved the sale of the Honolulu Star-Bulletin and brought an end to an anti-trust lawsuit filed by the state attorney general against Gannett Pacific Corp., which operates The Honolulu Advertiser. Download order approving the sale and the sales agreement. (Adobe Reader required, 2.3 Mb.)
NTSB reviewing sub's reliance on 'passive sonar'
Federal investigators are examining the details of a fatal 1989 submarine accident that bears some resemblance to Friday's collision between the USS Greeneville and a Japanese training vessel, the National Transportation Safety Board said yesterday.
Missing students hoped to carry on tradition
Toshiya Sakashima, Yusuke Terata, Takeshi Mizuguchi and Katsuya Nomoto were learning to fish on the open ocean. Now the four boys, each 17, have become the youngest of nine people missing at sea since Friday.

Retiring crewman among missing

Probe to re-examine where subs should train

See a Flash presentation showing what happened when the USS Greeneville surfaced. Flash 4 plug-in is required.
Diamond Head dwellers feud over height of home
Diamond Head is only one of several neighborhoods on O'ahu where residents are concerned about some homeowners building their homes higher than surrounding ones, taking away highly valued views which could sink property values.