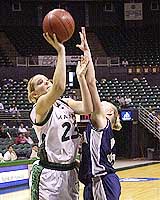 Wahine Crystal Lee shoots over Nevada's Ashley Bastian. Lee sat out the last few minutes of the first half after spraining her right ankle. She started the second half, finishing with 14 points.

Gregory Yamamoto • The Honolulu Advertiser
Wahine rout Nevada, extend win streak to 6
The UH Wahine basketball team used balanced scoring, accurate free-throw shooting and a huge second-half run to defeat Nevada, 74-52, yesterday at the Stan Sheriff Center.

Bulldogs put bite on 'Bows, 86-63
Providing bite to their bark, the Fresno State Bulldogs defeated the University of Hawai'i men's basketball team, 86-63, yesterday.

Giannetti beats Louisville for first college win, 4-0
In his first start of the season, sophomore right-hander Chad Giannetti tossed six scoreless innings for his first collegiate baseball victory as Hawai'i beat Louisville, 4-0, yesterday.