By Frazier Moore
Associated Press
On Valentine's Day, "Inside Edition" marks its 4,000th broadcast.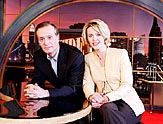 Executive producer Charles Lachman has been with "Inside Edition" since 1989; Deborah Norville has been its host since 1995.

Associated Press

That's a long time. When "Inside Edition" started in January 1989, the first Bush presidency was also premiering.

As one of three syndicated newsmagazines that slugged it out for much of the 1990s, "Inside Edition" handily outlasted its niche rivals: "A Current Affair" (1986-1996) and "Hard Copy" (1989-1998).

Today, "Inside Edition" stands alone — that is, if alone means competing for stories with network newsmagazines, entertainment newsmagazines, local and network newscasts, and cable news channels; and if alone means competing for audience share with everything from soaps and "Jeopardy" to "Seinfeld" reruns and "The Late, Late Show."

With the passing of the brazenly lurid "Copy" and "Affair" -which at one point bragged how it would no longer pay for interviews — "Inside Edition," now alone, is also spared guilt-by-association with that bygone tabloid-TV genre.

Breathe the T-word around the "Inside Edition" offices on West 57th Street (across from CBS News), and you might be reminded of the show's many honors for investigative journalism, including a 1996 George Polk Award for undercover reporting about exploitation of the poor by the insurance industry.

Watch "Inside Edition" and you find a lively mix of off-the-headlines features, celebrity news, novelties, exposes and other pieces to get viewers talking.

Several minutes might be devoted to the Ohio doctor at the South Pole who treated herself for breast cancer — and to her family, from which she is estranged. There might be a lengthy report on the Decatur, Ga., sheriff-elect who was slain in his front yard.

Did you hear? Tom and Nicole are splitting! Here's an update on zaftig widow Anna Nicole Smith. And, because "Survivor II" is all the rage (and because it's a sister venture of Viacom-owned "Inside Edition"), there's lots about "Survivor II."

Then, last week, "Inside Edition" aired a hidden-camera investigation of how unethical salesmen of motorized scooters prey on their elderly and disabled customers.

For nearly a decade, Robert Read has headed up the show's 10-strong investigative team. A veteran of "Dateline NBC" and ABC News' "20/20," Read deems his unit "quicker, I think, and lighter on our feet than some of the network shows."

Deborah Norville agrees. After high-profile news roles at NBC and CBS, she became host of "Inside Edition" in 1995.

"It wasn't that big a professional leap for me," says Norville, recalling a certain story she reported at CBS. While interviewing her subject, she learned that "Inside Edition" had been there two weeks earlier. "I remember thinking, 'Not only are we doing the same stories, but sometimes they do them first!' "

On "Inside Edition," Norville has continued to go out on stories.

Last week, she did a two-day update from behind bars at North Carolina's Davidson County Jail, where, a year ago, she had spent five days incarcerated.

Hard-charging journalism? A goofy stunt for February sweeps?

Either way, it's worth noting that Ted Koppel once did the same thing for ABC News' "Nightline."

Could it be the more things change, the more they stay the same? Not when you've got that missing minister who turns up after 16 years with no memory, he swears, of the wife and child he left behind.

"News changes every day, and each day is a great game," declares Charles Lachman, who, executive producer since 1995, was there on Day One.

On that first "Inside Edition," host David Frost made a glib pledge vowing no "three-headed babies" or "programs devoted to issues like: Should one-legged lesbians be allowed to adopt ferrets?"

Two months later, feisty man-of-the-people Bill O'Reilly replaced Frost. But the show would make good on Frost's promise — and then some.