It may take time to get used to driving hybrid


By Scott Ishikawa
Advertiser Staff Writer
In a world of gas-guzzling SUVs and monster trucks, "green" machines that run on gas and electricity are automotive oddities.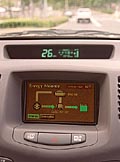 The energy monitor of the Toyota Prius shows whether the car is being powered by gas or electricity — or both.

Bruce Asato • The Honolulu Advertiser

But car dealers selling the Toyota Prius and Honda Insight have high hopes for what they call their "hybrids."

"It's partially electrical-powered, but it's self-contained power, so you don't have to plug it in somewhere at night," Kevin Okawa, technical support manager at Toyota City in Mapunapuna, said of the hybrid. "What we're trying to push with these hybrid cars is that it runs like a regular car."

According to a U.S. Department of Energy comparison of all 2001 models, the Honda Insight and Toyota Prius ranked first and second respectively in gasoline efficiency. The Sierra Club has recognized both cars for their low emission of pollutants.

The Prius is the first mass-produced hybrid-electrical car, with 35,000 of the compact sedans sold in Japan since 1997. The Honda Insight, which arrived in the United States before the Prius, is smaller and seats only two, but it gets 70 mpg on the highway and can run up to 700 miles on a tank of gas.

Hawai'i consumers have been slow to embrace the hybrids. Only 15 Prius models have been sold since its November arrival in the Islands, and only 19 Insights have sold statewide since last spring. Both manufacturers hope expanded options and a different approach to marketing will boost sales.

The cars are the result of federal mandates challenging automakers to develop vehicles that reduce pollution. Ford and General Motors have promised hybrid-electric cars, trucks and SUVs in 2003 and 2004, respectively.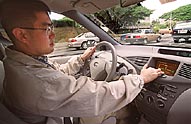 Advertiser reporter Scott Ishikawa checks a monitor in the Toyota Prius.

Bruce Asato • The Honolulu Advertiser

Despite a strong U.S. economy that has prompted the recent surge in sales of SUVs, trucks, mini-vans and large cars, hybrid cars and trucks will become more common as fossil fuel supplies dwindle, said Karl Kim, chairman of the University of Hawai'i Department of Urban and Regional Planning.

"How quick that will happen will depend on rising oil prices and efforts to reduce vehicle emissions," Kim said. "The technology will not be limited to cars, because Jeep and GM have announced (plans) to put it in their Jeeps and trucks as well."

Promotional tool

While cars that run solely on electricity are on the market, automakers are pushing the hybrid models in response to buyer skepticism.

Electric vehicles run cleaner, but they can't go for long distances when compared with gas-powered cars.

"I think some people are worried about running out of (electrical) juice and getting stuck somewhere on the freeway," Okawa said. And even though electricity is cheaper than gas, many motorists worry "when and where do I plug this in?" Okawa said.

The Toyota Prius primarily uses an electrical engine to run the car, with the gas engine adding power when needed to accelerate or climb hills. By contrast, the Honda Insight runs on gas and uses electricity as backup. Energy for the electrical engine up front is stored in nickel hydride metal batteries in the trunk. The batteries are similar to those that power cellular phones. The car never needs to be plugged in because the electric batteries recharge whenever the vehicle is coasting, braking or running on gas.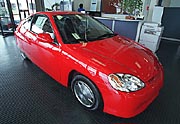 The Tony Honda dealership displays the Insight, which includes an aerodynamic design to enhance fuel efficiency.

Bruce Asato • The Honolulu Advertiser

Both cars have features to minimize fuel waste when the engine is idling. The Prius only uses the electric motor in stop-and-go traffic , while the Insight's gas engine turns off when the car stops.

To entice consumers, automakers have extended the warranty to the hybrid-electric cars, said Jane Murakami of Toyota Hawaii customer relations. While the Prius and Insight carry a standard three-year warranty, the electrical-engine components, including the battery, are covered for 100,000 miles or eight years by Toyota and six years by Honda.

Honda hopes to expand the market for the Insight this spring by offering an automatic transmission, said Tony Honda general sales manager Vic "Poki" Pojas. Honda will eventually use electrical-engine technology in its other gas-powered vehicles in the next few years.

Toyota dealers, on the other hand, will make a bigger marketing push for the Prius in June, Murakami said. So far, the Prius has sold mostly to buyers interested in the technology or concerned about the environment.

"I think a lot of people are not aware about these hybrid-electrical cars, or are unsure how it runs," Murakami said. "We hope our advertising will help explain to the consumer on what the car is capable of."