By Tino Ramirez
Advertiser North Shore Bureau
WAIALUA — For Waialua High School seniors Dane Dela Cruz and Julia Takahashi, working on research projects and presenting the results to their classroom peers is nothing new.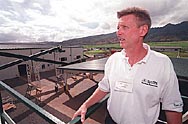 Waialua plant manager Richard McCormack said Pioneer Hi-Bred International has a long history of helping communities.

Advertiser library photo • Oct. 8, 1999

But this day was different. A darkened conference room in Pioneer Hi-Bred International's Waialua plant was the venue, and their audience was made up of adults, many of them strangers.

Dela Cruz, Takahashi and three other Waialua students explained the pros and cons of gene therapy, the advantages of fuel ethanol and how predatory mites can control spider mites at less cost and with less damage to the environment than pesticides.

The students fielded questions, received tips on improving their methods and left the presentation elated. Like all the work they've done as interns at Pioneer Hi-Bred, the experience was different, said Takahashi, whose mite research recently won the Waialua science fair's senior division.

"Sometimes you feel like you don't want to do the work in school because you don't know how it applies to you," Takahashi explained. "With all our projects, you can see how it can have a big impact here and worldwide. You see how it's going to affect Pioneer and the rest of us in the future. You feel like you're working for the community."

Working at Pioneer, the world's largest manufacturer of seed corn, has given the students a taste of the "real world" and what it means to be responsible, said Dela Cruz. The internship also takes them into the field. One eight-hour shift was spent detasseling corn, a job that required walking through acres and acres of fields in Mokule'ia.

"I know now what to expect with any job," said Dela Cruz. "In school, you do your homework or not. But at work, you have to do your job. Everything is on you. You feel like you can't miss even one tassel and you really want to do it right."

Dela Cruz, Takahashi, Edison Labasa, Jessica Shuman and Natashia McShane are the second group of Waialua students to participate in Pioneer's Educational Enrichment Program. Pioneer opened its Waialua processing plant in October 1999, and has 1,000 acres of corn on the North Shore and in West O'ahu.

Pioneer has a long history of investing in communities near its operations, said Waialua plant manager Richard McCormack. But rather than give money or help build a facility, it decided to do something with more long-term impact, he said.

"So here we are, adjacent to the high school," said McCormack. "In early conversations with (former principal Tom Kurashige), he indicated there was a shortage of 'human capital.' He said the school can always get money, but it can't always get people involved to give guidance and mentor. We immediately decided we could fill that gap."

The students apply for internships, get interviewed and are placed on Pioneer's payroll. Besides being assisted by Pioneer's staff, they also are mentored by interns from the University of Hawai'i.

"We felt there would be some real synergy due to the closeness in age," said McCormack. "The college students fill them in on what the real world is like, tell them about college, how to get in and what hurdles they might face."

Students have learned valuable lessons, said Jan Ikeda, coordinator of Waialua's partnerships with off-campus learning resources.

"It expands the possibilities for them," said Ikeda. "When they're out in the field, outside in a business, they see real applications of what they're learning. It's not just us making up scenarios."