By Kyle Sakamoto
Advertiser Staff Writer
Nevada's first trip to Hawai'i as a member of the Western Athletic Conference didn't go very well last night at the Stan Sheriff Center.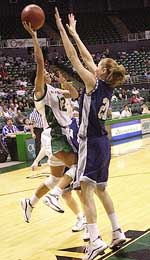 Five-foot-6 Janka Gabrielova of Hawai'i drew a foul against Nevada's 6-3 Sarah Estrada on this first-half drive. Gabrielova was one of three Wahine to score a team-high 14 points.

Gregory Yamamoto • The Honolulu Advertiser

Hawai'i used balanced scoring, accurate free-throw shooting and a huge second-half run to defeat Nevada, 74-52, before 948.

Janka Gabrielova, Crystal Lee and Dainora Puida each scored 14 points to lead the Wahine.

"Anytime you get balanced scoring, that's great," Hawai'i coach Vince Goo said. "It shows you have versatility, not just one or two go-to people."

Nevada tied the game at 35 three minutes into the second half on a putback by Kate Smith.

Hawai'i then outscored Nevada, 39-17, the rest of the way.

"We were really happy with our second half because in the first half it was a close game," Lee said. "We knew we weren't playing as well as we should have been playing (in the first half)."

Hawai'i made 32 of 38 free throw attempts, including 24-of-27 in the second half. The Wolf Pack made only 10 of 16.

"The primary thing that hurt us was we fouled and sent them to the line a little too much," Nevada coach Ada Gee said. "They're an excellent free-throw shooting team."

Hawai'i (18-4 overall, 9-2 WAC) extended its winning streak to a season-best six games.

Nevada (12-11, 5-6) dropped to 2-9 on the road.

"We have played very well at home," Gee said. "Sometimes on the road we aren't shooting the ball very well. Our team's confidence comes from getting our shots to drop."

The Wahine made 9 of 18 field- goal attempts in the second half. The Wolf Pack made just 9 of 37.

"We had scoring opportunities and short chip shots off of our boards that didn't fall for us tonight," Gee said. "And at key times we didn't take care of the ball."

Hawai'i went on a 19-7 run to take its largest lead of the first half at 27-15 with 6:10 remaining. Kylie Galloway started the rally with a field goal with 13:56 remaining, and ended it with a spinning layup.

Nevada went to a 2-3 zone over the final five minutes of the half, and went on a 13-4 run to cut the deficit to 31-28 at halftime.

"We went to the zone because they took their shooters out," Gee said. "We thought we could capitalize on a few possessions there."

Lee sprained her right ankle after missing a layup with about five minutes remaining in the first half.

She sat out the remainder of the first half, but started the second half.

"I just twisted it," said Lee, who played 26 minutes. "It'll be OK. I'm going to ice it the next couple of days. It'll be fine."

Hawai'i will play road games at Southern Methodist, Rice, San Jose State and Texas Christian beginning Friday.

"Our next four games will be pivotal in the race for the conference (championship)," said Goo, whose team is 4-0 on the road this season.