By Dayton Morinaga
Advertiser Staff Writer
FRESNO, Calif. — Providing bite to their bark, the Fresno State Bulldogs defeated the University of Hawai'i men's basketball team, 86-63, yesterday.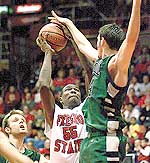 Hawai'i's Troy Ostler, right, gets away with a foul as he blocks a shot attempt by Fresno State's Mustafa Al-Sayyad.

Associated Press

The Bulldogs fulfilled two days of boastful predictions by avenging an 18-point loss to the Rainbows in Honolulu on Feb. 1. Fresno State, which is ranked No. 23, improved to 20-3 overall and 9-1 in the Western Athletic Conference.

"I think we embarrassed them," Fresno State forward Shannon Swillis said. "Maybe not completely, but enough."

The Rainbows remained a futile road team in falling to 10-12 overall and 4-7 in the conference. Hawai'i is 0-7 away from home this season, including 0-6 in the WAC.

"(Fresno State) did all the same stuff at our place," UH coach Riley Wallace said. "Except here, they just turned it up a notch."

Before a sellout crowd of 10,220 at Selland Arena and a national television audience on Fox Sports Net, the Bulldogs defended home court with a furious man-to-man defense.

During the game in Honolulu, Fresno State was consistently victimized by Hawai'i's motion-oriented offense. Yesterday, the back-door layups and open-look jump shots that the Rainbows often rely upon were slammed shut.

"We went through every detail of their offense in practice," Fresno State center Melvin Ely said. "We wanted to deny everything."

They pretty much did.

The Rainbows made just 22 of 58 shots for a .379 percentage that was colder than the 40-degree temperature outside, and their dismal 3-of-16 shooting (.188) from 3-point range was fitting for a gloomy, rain-soaked day.

But perhaps most costly, Hawai'i committed a season-high 26 turnovers, including a combined 14 by the starting backcourt of Predrag Savovic and David Hilton.

"We never got into our offense the entire game," Wallace said. "We rushed our outside shots, and when we did get inside, Ely intimidated. He was a force defensively."

Ely, a 6-foot-10 junior who is contemplating entry into the NBA Draft, finished with 22 points on 10-of-14 shooting, nine rebounds and four blocked shots.

Hawai'i senior center Troy Ostler said: "It was hard to get open. (Fresno State) played the same defense they did the last time, it was just more intense."

To be sure, the Bulldogs went ahead 2-0 on Swillis' put-back 30 seconds into the game, and never surrendered the lead. It swelled to as much as 12 in the first half before the Rainbows made a charge just before intermission.

Seven unanswered points cut the Fresno State lead to 38-33 with nine seconds remaining in the half. But in a tell-tale sign of the game, Ostler emphatically rejected a Fresno State shot right into the hands of Bulldog reserve Travis DeManby, who proceeded to drain a long 3-pointer at the buzzer.

"We hung in there for a while," Wallace said. "But then it was just too many turnovers."

Aided by six Hawai'i turnovers in the first six minutes of the second half, Fresno State went on an 18-4 run after halftime that all but put the game away at 59-37. The Rainbow reserves cut the deficit to 12 with six minutes remaining, but that was as close as it got.

"It wasn't so much that we wanted revenge," Ely said. "We just had to prove it to ourselves. We wanted to prove that the loss in Hawai'i was a fluke."

All five Bulldog starters shared in the redemption. Ely was followed by Tito Maddox (15 points, eight assists), Demetrius Porter (13 points, six steals), Swillis (12 points, six rebounds), and Chris Jefferies (12 points).

Although several Bulldogs openly wished for a 50-point blowout, Swillis said the 23-point margin was satisfying enough because "we took Hawai'i out of their game."

Savovic scored a game-high 24 and Ostler added 15, but Wallace said the Rainbows' two best players too often improvised shots.

"We got impatient when we couldn't get into the flow of our offense and guys just started to throw up shots from anywhere," he said.

Mindaugas Burneika, who scored a career-high 27 in the first game against Fresno State, was held scoreless. Phil Martin, who entered the game as the WAC's leader in field goal percentage, made just one of his six shots. Hilton, the Rainbows' freshman point guard, also did not score and committed six turnovers.

"Turnovers killed us," said Savovic, who committed a team-high eight. "I've never made that many before, so I take my share of the blame."

Ostler, who was the focus of taunts by Bulldog fans sitting at courtside, added: "It's frustrating because we know how good we can be. To come out and give a performance like this is disappointing. We knew (Fresno State) wanted to win real bad because they came out and said it. But that gave us a little something to fight for too, and we didn't fight hard enough."

Hawai'i's next game is scheduled for Thursday against Southern Methodist in the Stan Sheriff Center. Freshman center Haim Shimonovich will be eligible to play for the first time this season in that game after sitting out a 22-game NCAA suspension for participating in a professional league in Israel before enrolling at UH.