Read more about golf in our special Golf Report
Associated Press
SAN DIEGO — Phil Mickelson has won 18 times on the PGA Tour, but nothing quite as bizarre as his playoff victory yesterday in the Buick Invitational.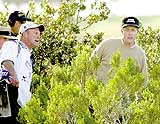 Phil Mickelson, right, searches in vain for his ball in the brush of the 17th hole. Mickelson would win the Buick Invitational when Frank Lickliter triple-bogeyed the hole.

Asociated Press

He had to hit three tee shots on the third playoff hole, and the only one that found the fairway didn't even count. He wound up winning with a double bogey, but only after Frank Lickliter went from likely winner to shocking loser with a three-putt from 12 feet.

"An awkward playoff," Mickelson said. "I'm excited about the outcome."

Lickliter was close to tears.

Trying to win for the first time in 158 starts on the PGA Tour, Lickliter followed Mickelson into a canyon with his tee shot on the 17th, was on the threshold of victory with a wedge into 12 feet, then walked off in stunned silence after his three-putt for triple bogey.

"I'm in shock right now," Lickliter said, his voice cracking. "Other than getting a little stupid, I felt I played pretty good. It's tough to swallow."

Davis Love III was eliminated from the playoff on the second sudden-death hole when he failed to save par from a plugged lie in the bunker on No. 16.

All three players finished at 19-under 269. All had eagle putts to win in regulation on the par-5 18th, and again on No. 18 in the playoff.

The third playoff hole, the 425-yard par-4 17th, was a script right out of a horror show.

Mickelson hit first and fanned his drive into a canyon left of the fairway, leaving him with virtually no chance at par. Lickliter followed by hitting his drive in the exact same spot. Both hit provisional tee shots, assuming the balls would not be found, and both hit the fairway with their third shots.

But Lickliter found his ball and had to go back to the tee and hit his third shot over again. Mickelson was already in the fairway and didn't want to find his. Much to his chagrin, someone in the gallery found it for him and he had to replay his third shot, too.

Lickliter hit the fairway for the third time. Mickelson's ball headed for the canyon once again.

"Oh, no! Spit it out!" he implored.

A tree obliged, but left him a tough lie, and Mickelson hit a great approach to 25 feet. Lickliter hit his wedge to 12 feet and appeared on the verge of victory.

"I wasn't thinking anything but making it," Lickliter said. "I felt like I hit a good putt, and I hit a better one on the second one. That's the outcome I have to take."

Mickelson closed with a 66 to become the first repeat winner of the tournament since J.C. Snead in 1976.