Get ready for a load of critical paperwork
Wedding Expo offers advice on gowns, cakes, the works
By Zenaida Serrano Espanol
Advertiser Staff Writer
With the exhausting planning and work that typically go into putting together a wedding, couples usually enter their wedding day extremely well-prepared for the glorious event.
Advice for newlyweds
Norman Gibson, a licensed marriage and family therapist for Straub Clinic and Hospital's Employee Assistance Program, offers these tips to help newlyweds make the transition into married life smoothly, although they also can apply to all married couples.
Take your vows seriously and act as if divorce is absolutely not an option.
If you're angry, don't say anything destructive that you can't take back later. Take a time out. Wait until you have cooled down to have a discussion.
Give up right now on trying to change your spouse. Instead, work on understanding and accepting your partner — things that will take a lifetime to accomplish.
Take the time to talk about things that couples typically fight about, such as money, sex and children.
Don't expect a "happily ever after" fairy-tale marriage. You are going to get mad at your spouse at times, and he or she is going to get mad at you. This does not mean the marriage is bad. Remember that no marriage is perfect and that you are going to make mistakes along the way.
Don't wait for things to get really bad to seek outside help.
Keep a sense of humor.

— Zenaida Serrano Espanol

Unfortunately, the same type of attention usually doesn't go into preparing for the day-to-day struggles of actual marriage. Many couples start out with little knowledge of what to expect of their new commitment or how to make it last.

As a result, newlyweds often become overwhelmed or discouraged with disagreements and unmet expectations that can develop soon after tying the knot.

"Unfortunately ... all these lovely wedding planning books and those bridal magazines ... they don't tell you about these little letdowns that (may) happen," said Norman Gibson, a licensed marriage and family therapist for Straub Clinic and Hospital's Employee Assistance Program.

But these conflicts "are not a sign of a bad marriage," he said. "They're just a sign of adjusting to change."

Here is a closer look at some of the most common issues that newlyweds deal with.

Unrealistic expectations

"I think a big one is the unrealistic expectation that you're going to spend all your time together," Gibson said.

If husbands and wives do not pursue their own activities, they can get bored and develop unrealistic expectations that their partners will fulfill all their needs.

"Learn to give each other space, and allow for some separate activities," Gibson said. "Remember that you are still two unique individuals who have chosen to share your lives."

Couples may say to each other, for example, "I'd like to have a day of surfing. Is that all right with you? Would you like to have a night of clubbing with your friends?"

"You need to check in with the other person. ... It's negotiating. It's compromise," Gibson said.

Krista Guiteras-Duncan of McCully said getting used to the idea of being "one" with her husband was the biggest adjustment she had to make after getting married.

"It wasn't just about me, me, me anymore," said the 27-year-old newlywed of two months. "It's about us (now)."

However, Guiteras-Duncan still believes in keeping her identity.

"In fact, my New Year's resolution was to wake up earlier to have time to be alone, to do my own thing and to be myself."

She spends this time writing in a journal, e-mailing friends, reading the Bible or praying.

Keeping romance alive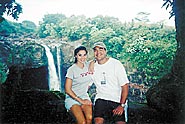 McCully residents Krista Guiteras-Duncan and husband Bradley, pictured at Rainbow Falls in Hilo, enjoy each other. But Krista also pursues her own interests.

"Now that you're living together and waking up to tousled hair and bad breath, you have to work to keep romance alive," Gibson said.

His advice: "Continue to go on dates with each other as you did when you first met."

Mitzi Gold, a licensed psychologist and social worker, also recommends newlyweds continue to date, and suggests going out for nice dinners.

"They eat and they talk about themselves and what's going on in their lives," said Gold, who is also director of the Mars and Venus Counseling Center in Honolulu. "It's private, personal time for the couple."

Gibson said his definition of a date requires a couple to bathe, brush their teeth, fix their hair, dress nicely and go somewhere special.

"And it doesn't have to be expensive. It can just be something that is different," Gibson said. "If you can't do it once a week, then do it once every two weeks, but make it a regular thing so that you can count on it."

Noelani Ann Lau, 22, of Wai'anae said that she and her husband still get dolled up to go out to dinner or watch a movie. They make time for each other when they can, going cosmic bowling or playing miniature golf.

"It's important to still do the same stuff you did when you were dating," said Lau, who has been married for eight months. "Don't ever let that go. If you do, the romance will end."

Gold suggests couples also do nice little things for each other, such as giving flowers, writing love notes to each other or calling just to say "hi."

Differing sexual appetites

It's normal for people to have different appetites for sex, Gibson said. And the differences have to be respected.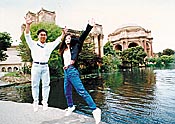 Brian and Lianne Kang of Mililani cut loose in San Francisco. Together for 16 years before marrying last year, they attribute their longevity to good communication.

It is also common for these appetites to decline over time, which Gibson stresses is not a sign that something is wrong with a marriage.

"If you want somebody to be in a sexy mood, then you have to treat them special and you have to make them feel good, cherished and loved," he said.

Although it may be awkward, couples must talk and be honest about what turns them on and off.

"Nobody is blessed with mind-reading abilities," Gibson said.

"I've talked to elderly people who still have wonderful sex lives because they're willing to talk about it and they're willing to be sensitive to the other person."

Dealing with in-laws

Couples are married not just to each other but, in a sense, they are also married to each other's families.

"So you better learn to get along with them," Gibson said.

Getting along with in-laws can be a big issue especially in Hawai'i, where many couples live with in-laws for financial reasons.

"It's difficult to make that work unless the in-laws and you have some really good agreements about the boundaries," he said. For example, in-laws need to recognize the importance of giving couples their privacy, and vice versa. Communication is vital.

If a couple finds it too hard to get along with the in-laws, they might consider moving, even if it means lowering their standard of living, Gibson said. "Maybe they (won't) have a big yard anymore and maybe they are not saving as much money, but maybe it saves the marriage," he said.

In cases where couples cannot get along with the in-laws, spouses should always support each other, Gibson said. He believes that when two people get married, that should be the most important relationship, even before in-laws and before children.

"It has to be," he said, "because you're building a foundation."

Chores and routines

When does it finally sink in?

At the supermarket, over the first meal in a new house, at someone else's wedding. We asked newlyweds when it hit them: "Hey, I'm married."
"It doesn't hit you until you start shopping at Costco together."
— Chieh Fu Lu, 26, Nu'uanu, financial adviser, married Dec. 17
"His dad called our house and he said, 'Lianne, this is dad.' I had to think a minute. That didn't sound like my dad."
— Lianne Kang, 31, Mililani, coordinator for marketing and Medicare, married Nov. 18
"When we . . . practiced our vows. That's when it suddenly dawned on me. I was excited, but I had this sense of greater responsibility. . . ."
— Brian Kang 32, Mililani, attorney, married Nov. 18
"It was like, 'OK, he's my husband. I'd better take care of him more.' So now I cook."

— Claudia Shimamura, 30, Waikele, human resources representative, married May 28

It's important for couples to establish a chore routine early, rather that just falling into a routine that may cause resentment or other problems later.

"I would recommend (couples) talk to each other and decide who's going to do what," Gibson said. "You might be surprised — some people enjoy cleaning the bathrooms and some people enjoy cleaning the kitchen."

"More and more men are becoming more domestic," Gold added, "so they are helping (more) around the home."

"We divvy up the housework," said Brian Kang, 32, of Mililani, referring to his wife, Lianne. "She does the bathrooms, I do the vacuuming and we split the cooking."

"And if you both hate cleaning the toilet, then alternate," Gibson said, smiling.

Building communication

"I really do believe that it (communication) is the key to continuing to have your love grow and to be able to work out differences and misunderstandings," Gold said.

A key is to remember that men and women often communicate differently.

Men need to be able to listen to women without taking things personally and trying immediately to fix problems. Instead, they need to give emotional support.

Women, meanwhile, need to communicate very clearly to their spouses, Gold said. She has noticed that men are very sensitive to gestures and tones, and they do not like being told what to do, attacked or treated like a child.

Couples also should be very purposeful and thoughtful about communicating with each other. A good idea, for example, would be to set aside time in the morning to pray together or to have meaningful conversations at dinner.

Establishing a communication system may set the pattern for their whole lives. It also can establish a foundation for when couples have children, which is when communicating becomes even more difficult and critical.

Gibson said that often, people think that communicating means waiting until the other person is done talking, then defending themselves. However, real communication is mostly listening and trying to understand the other person's point of view.

"If it's only one person doing all the listening and the accommodating, then it's just not going to work, he said."

The best way to find out if you're a good communicator is to ask your partner, Gibson said. "You'll get the truth if you're willing to get the feedback."

Staff writer Catherine E. Toth contributed to this report.