By Tanya Bricking
Advertiser Staff Writer
KAPALUA, Maui — This is not your father's Mercedes Championships.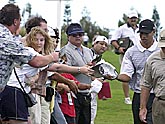 Golf superstar Tiger Woods attracts crowds of adoring fans at The Plantation Course in Kapalua, Maui, and wherever else he goes on the PGA Tour.

Gregory Yamamoto • The Honolulu Advertiser

A 25-year-old golf superstar is changing the image of the tournament that opened the 2001 PGA Tour season at The Plantation Course in Kapalua, just as he almost singlehandedly has transformed who plays golf and who watches it.

Tiger Woods is the kind of one-man golf industry who can thumb his nose at traditional golf fashion and dye his black hair blond, then shave his head and remain focused on his sport.

He's the kind of living legend who can sell out $6,000-a-night mansions along the golf course for people who just want to catch a glimpse of him.

He's the kind of hero who has fathers waiting around for autographs for themselves as well as their children and grandchildren.

And he's the kind of player who can keep security guards scrambling between protecting him as well as a $4.5 million fleet of 87 Mercedes-Benz luxury cars shipped in to share the spotlight.

Instead of the pudgy golfers of yesteryear, this year's tournament is catering to golf's new fitness fanatics, down to opening hotel workout rooms at 5:30 a.m., said Kimberly Svetin, spokeswoman for The Ritz-Carlton, Kapalua, who has a binder full of names of the rich and famous staying there and details about their preferences.

Golf is a $1 billion industry in Hawai'i, and Woods is helping Maui rake in the bucks from the tournament that ends today. Organizers say they expect to exceed last year's 20,000 tournament spectators by 10 percent.

"You can't ignore the fact that golf is a huge, money-producing, nonpolluting industry," said Joe Pluta, president of Maui Destination Travel, who has been in the Maui tourism industry for 30 years. "Tiger Woods broke the race barrier. People thought you had to be old, white and rich to play golf. He's changed all that. Tiger really put a shot in the arm of golf, and Maui has benefited big time."

When he plays, they come

From Kapalua Bay Hotel, an upscale resort sold out before the weekend, to booked rental car agencies and interisland flights in West Maui, businesses are crediting Woods for boosting a sagging economy.

"I've seen probably a 50 percent increase in people coming in," said Uini Kauvaka, manager of Hawaiian Quilt Collection at the Kapalua Shops, who said she's content to stay away from the golf course but would like to "just get a look at the top of Tiger's hat."

Tiger sightings have been big talk at the shops, where others have been bragging about spotting movie star Clint Eastwood and New York Yankees manager Joe Torre.

At The Ritz, doorman Jay Schuhardt has memorized each golfer's picture and name posted on an employee bulletin board so he can greet each one by name.

"Frenzy? What frenzy?" Schuhardt joked as he opened car doors and placed golf clubs in trunks. "It's a well-oiled machine out here."

Farther from the golf courses, Darol Britton, manager of Mavrik Motorcycles Hawai'i, wasn't sure he'd recognize most of the pro golfers if they walked in.

"Is Tiger playing?" he asked. "Even I would recognize him. Tiger is golf. He came on like gangbusters and did everything they predicted."

At 6 feet 2 and 180 pounds, Woods, born with the name Eldrick, is as marketable as his nickname, so popular that an impostor was recently in the news for trying to steal his identity. Woods' first brush with fame was at age 2 when he putted against Bob Hope on "The Mike Douglas Show."

He has grown into a man known for his work ethic as much as his winning streak. He was the youngest player, at 24, to complete a career Grand Slam. He is the only player to win more than $9 million in a single season. He won nine times on the PGA Tour last year, the most since Ben Hogan in 1948, and his 11 worldwide titles are the most since Sam Snead in 1950. He already ranks 20th on the PGA Tour's all-time victory list.

He has charmed the grandmother set, too.

"When he's here, there's an excitement that doesn't happen the rest of the year," said tournament volunteer Ada Hole, who has watched Woods with fans young and old. "He's got an aura about him that the other golfers don't seem to have."

Parents say he's the kind of role model a hero-starved society craves.

"I look at it from a mom's point of view," said Janet Schaut, a Maui Coast Hotel travel desk representative attending the tournament. "He's such a cute kid, and he's done so well for such a young age. It's amazing. Every mom would like to see their kids do so well."

Don Ewing's 8-year-old daughter isn't as awestruck as he is, but it has taken years of following the young hotshot to make Ewing a fanatic.

"I've been following his career," said Ewing, sales manager at Kapalua Bay Hotel, where Woods' father, Earl, has been staying. "People who never watched the game before will watch it because of Tiger."

'Very good for golf'

Woods is hitting the right demographics at the right time and having a strong influence wherever he goes, said Ray Stosik, executive director of the Sony Open and president of Hawai'i-based sports-marketing firm Communicator Sports & Entertainment.

"Everybody wants to see and touch this young phenom,"

Stosik said. "It's just very good for golf."

This shaven-head twentysomething who has breezed in to play golf has put Maui in a tailspin over sports, and even local cultural adviser Clifford Nae'ole, who opened the tournament with a chant and a prayer, can understand the frenzy.

"It excites a lot of the community to know that the best in the world are converging here," he said. "This is the only time there is traffic on the corner. But Tiger Woods, for some reason, has brought the grassroots back to golf. It gives these kids a hero."

And for that, Nae'ole says, the Tiger mania of the new generation has the blessing of the elders.