By Eloise Aguiar
Advertiser Windward Bureau
WAIMANALO — Meadow Gold Dairies has completed the cleanup at its Waimanalo farm where a defunct waste recycling plant left hundreds of thousands of gallons of reeking material.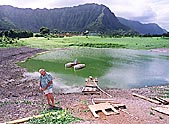 Joe Ryan and others who live near the Waimanalo farm once occupied by Unisyn are satisfied with the clean-up work that Meadow Gold Dairies has done. However, some say more needs to be done. A pond on the site, for instance, still needs to be dealt with.

Deborah Booker • The Honolulu Advertiser

Neighbors say they're generally satisfied but that more needs to be done.

Brant Tanaka, a consultant for the project, said that by Christmas Meadow Gold had removed all the material it was responsible for disposing of.

According to Tanaka, the process took about six months and included the removal of 800,000 gallons of wastewater and 1 million gallons of food waste.

In addition, about 2,400 tons of compost and mulched green waste were sold or donated to community projects.

All of the material also was tested for hazardous material, pesticides and metals, and all levels were determined to be nondetectable or below allowable levels, Tanaka said.

"The obligation that we had indicated in the closure plan has been fulfilled in terms of removing the waste," Tanaka said.

The Department of Health will inspect the cleanup site this week, said Gary Gill, deputy director for the department's Environmental Health Administration.

"As far as we know, the cleanup has been going well," Gill said, adding that the department received one odor complaint regarding the use of partially digested material on a farm. "That was stopped and the rest of the material was landfilled," he said.

However, the cleanup did not include a pond that Unisyn leased directly from the state and used to dump some of its waste.

That pond remains a problem for Tammie Ryan, who lives about 300 yards from the Unisyn plant on Waikupunaha Street. She said she suffered headache and nausea when the plant operated.

The air quality has improved except when it rains, Ryan said.

"When it rains, it stirs it all up (in the pond) and we get the gases again," she said. "That thing bubbles up with gases."

The Department of Health said the pond is being drained by a farmer who is using the liquid to irrigate his banana crop.

Once the pond is emptied, the state Department of Agriculture will test the sludge, said Marshall Lum of the health department.

Neighbors had complained since 1986 of odors that the plant operation produced. Unisyn reported carrying out mitigation plans to reduce odors, but the problem persisted, residents said.

Finally in 1997, Tammie Ryan's husband, Joe Ryan, couldn't stand it anymore and he sued the state, city, Borden/Meadow Gold Dairies Inc. and Unisyn Biowaste Technology.

Calling the operation a "massive, stinking, wet, maggot- and disease-ridden dump or depot that makes living in such a stench physically and emotionally sickening," Joe Ryan asked that Unisyn leave Waimanalo.

According to Tammie Ryan, the smell nearly forced their horse boarding and riding lesson business to shut down two years ago.

Eventually, Unisyn declared bankruptcy and shut down because it could not meet government standards.

It left the mess, and Meadow Gold promised to clean it up.

While operating, Unisyn received about 35 tons of waste a day, including farm manure. It converted that into compost, effluent for agriculture irrigation and methane gas.

Joe Ryan said he's satisfied with the cleanup but would like the state to clean the pond that Unisyn used.

"I think Meadow Gold did a wonderful job," Ryan said. "They've cleaned and drained and there's nothing on their property supposedly that can pollute a stream."