By Walter Wright
Advertiser Staff Writer

Call it the January effect.

Donating blood safe and simple

Giving blood is simple and safe and can save lives, the Blood Bank of Hawai'i says.

Donors must be in good health, 18 or older, 110 pounds or more, and have a photo identification.

The process takes between 60 and 90 minutes. There will be some paperwork, a confidential interview and a simple physical exam, but the actual collection of blood takes only five to eight minutes.

Pheresis — donation for platelets — takes longer, about two hours.

Gov. Ben Cayetano has proclaimed January as Volunteer Blood Donor Month in Hawai'i, coinciding with a national proclamation.

For information, call 845-9966 or check the Web site www.bbh.org.

Every year right after the holidays, the Blood Bank of Hawai'i is likely to "go critical" as the amount of blood on hand drops to a two-day supply.

It happened this year on Jan. 4, and Bank President and Medical Director Robyn Yim put out an urgent call for donors.

One of the first to respond was Wilhelmina "Willie" Kana'e, a regular donor.

"I saw on the TV they had a shortage, so I went in earlier than normal. I have O negative, which they say is rare, so I try to go every eight weeks," said Kana'e, 47, a Kamehameha Schools graduate who works for Straub Hospital and also runs her own Quick Qourier delivery service.

"It's my community deed," Kana'e said. "If I am healthy, I am going to help somebody. And I encourage my friends that never gave blood."

Because of Kana'e and people like her, the Blood Bank soon was able to restore its supply to close to the desired five-day supply level.

But the January effect continues through the month, with demand often outstripping donations, so the need goes on.

Year round, Hawai'i's donated blood supply comes from 26,000 donors, only about 2 percent of the population, which is less than the Mainland average of 3-4 percent. Hawaii residents contribute a total of about 47,000 pints of blood.

The annual demand is expected to continue to increase because of new surgical procedures that require more blood, and because of the increase in and general aging of the population, bank officials say.

The supply is literally a life-and-death issue for people like Debbi Hazama and her son Brett. Hazama needed eight units of blood products during childbirth.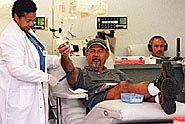 William Kay holds up his arm at the Hawai'i Blood Bank as he donates his 140th pint of blood. Kay, a Waimanalo resident, gives blood every eight weeks.

Deborah Booker • The Honolulu Advertiser

The bank could go critical at any time during the year, but the most likely time is January, said Stephanie Rosso, director of communications at the blood bank.

"January is a tough month, and on many days we are on the fence," she said.

"We speculate that demand increases sharply because a lot of people hold off elective surgery until after the holidays," she said.

On the donor side, "a lot of people have been sick in December and January, with the flu going around, or busy shopping and celebrating the holidays," she said.

The bank typically needs about 250 donors a day to meet Hawai'i's daily needs and maintain the five-day buffer, but on some January days the number of donors has dropped as low as 90.

The appeal last week was somewhat different, because the bank had enough whole blood and plasma, but was running out of blood platelets, the part of the blood used to heal wounds and clot blood.

"We dropped below the one-day level for platelets," Yim said.

It takes six to 10 donors to generate one dose of platelets, she said, but a single donor may also undergo a special process called pheresis to produce a dose of platelets.

Hawai'i so far has avoided the kind of crises reported on the Mainland where blood bank levels dropped so low that patients had to cancel scheduled surgeries, Rosso said.

"One of the biggest reasons for our shortages is that we need more new donors to enter the donor pool," Rosso said. "National surveys report people say they are too busy to donate blood."

And the best donor group, the World War II generation, is becoming ineligible because of health problems of their own.

Although there are 26,000 donors a year in Hawai'i, only about 5,000 form a loyal core who give on a regular basis several times a year, Rosso said. A healthy individual can give every eight weeks, and many do, she said.

"If we could get the other 21,000 to give just one more time each year, the impact would be really dramatic," she said.