By Christie Wilson
Neighbor Island Editor
WAILUKU, Maui — On the morning of her 18th birthday, Mary Vander Velde of Kihei backed her car into another vehicle in a parking lot and got two traffic citations.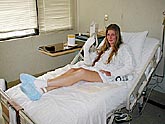 Mary Vander Velde, 18, recovers at Maui Memorial Medical Center from burns sustained in a fire at her family's Kihei home. Her 13-year-old sister, Jane, was also injured, though not as seriously.

Christie Wilson • The Honolulu Advertiser

Things got worse from there.

She returned around 11 a.m. Wednesday to the cottage her family rents on Namau'u Street and found her 13-year-old sister, Jane, in the living room making bead necklaces.

Jane walked into the kitchen and Mary was facing in that direction when something exploded.

"I wasn't home more than five minutes before I heard a whoosh sound behind me and saw a burst of flames and started running," Mary said.

She fell on her sister in the kitchen and the two girls scrambled out the kitchen door on their hands and knees. It wasn't until they were standing in the front yard, watching smoke billow from the windows, that Mary realized she was on fire.

"Both of us were screaming, 'Water, water!' " Mary recalled yesterday from her hospital bed at Maui Memorial Medical Center.

Neighbors doused the sisters with garden hoses and wrapped them in soaked blankets until an ambulance arrived.

The fire gutted the cottage where Mary lived with her sister, her unemployed parents, and her brother, a student at Lokelani Intermediate School. Maui Fire Department officials estimated the damage at $17,500.

Acting Lt. Charles Rojas of the Maui Police Department's Criminal Investigation Division said the cause of the fire has not been determined, but that detectives do not believe it was arson. A propane leak is one possibility, he said.

Meanwhile, Mary Vander Velde and Jane were both in stable condition yesterday at Maui Memorial Hospital.

Mary suffered first- and second-degree burns on her feet and both arms, and on her torso beneath her arms. Her sister suffered burns on one foot and her fingertips.

Donations to assist the Vander Velde family may be sent to: American Red Cross, Hawai'i State Chapter, 4155 Diamond Head Road, Honolulu 96816.

For more information, call the chapter at 734-2101.