Hawai'i's sumo pipeline is nearly dry

By James Gonser
Advertiser Staff Writer

WAIMANALO — The rural Windward town of Waimanalo is known for its rodeos, sweet corn and pristine beaches. But it's also known for its favorite son, sumo yokozuna Akebono, who set the community abuzz with word that he is retiring from the sport after a 14-year career.

At bus stops, in the feed store and especially at his mother's Sumo Connection Store in the Waimanalo Shopping Center, everyone was reminiscing and wondering what Chad Rowan, who competes as Akebono, will do now that his ailing knees have forced his retirement at age 31.

"I knew about three weeks ago he was going to retire," said Jan Rowan, standing next to a life-size sculpture of her 6-foot-8, 520-pound son outside her store. "It's a happy and a sad time for me. But I knew it was coming."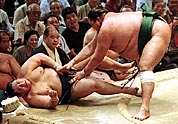 Akebono, born Chad Rowan of Waimanalo, right, pushes lower-ranked Miyabiyama from the ring in the Nagoya Grand Sumo tournament in Nagoya, Japan, in 1999. Rowan has announced his retirement.

Advertiser library photo • July 1999

Akebono, a 1987 Kaiser High School graduate, and his wife, Christine, have provided Rowan with two of her 12 grandchildren — a 6-month-old boy and 2-year-old girl.

"I don't know where he plans to live, but at least he will be here more often now," she said. "That is the happy part about it. I get to create a great relationship with my grandchildren and they can know what it is like to be Hawaiian."

Akebono formally sought the Japan Sumo Association's consent to end his career this weekend, saying it was an agonizing decision but he had to listen to his body.

As Akebono — a ring name that translates roughly as "dawn" — he was the first non-Japanese to be promoted to the highest sumo rank, yokozuna, in 1993.

He was naturalized as a Japanese citizen three years later and won the last of his 11 Emperor's Cups, emblematic of a tournament championship, in November 2000 during his final ring appearance. He had a career total of 566 victories against only 198 losses in individual matches.

At Kaiser, Akebono had formed a close friendship with teacher and counselor Nanette Umeda, and visited her regularly when in Hawai'i.

"I knew about his knees and always told him to watch his weight," Umeda said. "I know it was really difficult for him because of the pressure on his body. We all wanted him to win just one more tournament before he finished, and he did it."

Akebono worked as an aide to Umeda during his last year of high school. On visits, she said, he always wanted to hear about his classmates and teachers, and talk about life in Japan.

"I never knew he would have done so well in sumo," Umeda said. "But his kind spirit that they all talk about was prevalent from high school to his days in Japan."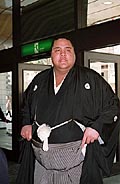 Chad Rowan, the first non-Japanese yokozuna, is seen here in formal sumo wear. Rowan is a hero in his hometown of Waimanalo.

Advertiser library photo • February 1993

Jay Bayudan, 25, grew up in Wai'anae and went to school with a brother of sumo wrestler Fiamalu Penitani, who competes as Musashimaru.

He said that although young people in Hawai'i don't pay much attention to sumo wrestling, they all know about the three Hawai'i sumotori made famous in a song by Israel Kamakawiwo'ole. Along with Akebono and Masashimaru is retired wrestler Konishiki, Salevaa Atisanoe of Nanakuli.

"When we watch the news and see another local guy make it big in other places, that's great," Bayudan said. "Then they are stars when they come home."

George Tayahu, who works at Waimanalo Feed Supply, has known the Rowan family for years, and said local sumo wrestlers have been positive role models for youth in Waimanalo and statewide.

"Ask me who my favorite sumo wrestler is, and I'll give you three guesses," Tayahu said. "And all three will be right."

Tayahu said anybody from tiny Waimanalo who can make it in the sumo world deserves credit.

"They treat you so bad when you starting out," Tayahu said. "We were always rooting for him."

Jan Rowan said her son was never discouraged while moving up through the ranks, but he did get homesick.

"When he was 19, we had huge phone bills — $700 to $800 a month — because he called home so much," Rowan said. "We didn't have much money then, and when Chad said he needed something, we would send him $25. He'd say, 'Mom. I can't buy nothing here with $25.' "

Rowan said Akebono is at least happy to be retiring while at the top of the sport.

"When he started, we had food stamps and lived homelands. Now he's a millionaire," she said. "He is the best he can be. That shows kids all you need to do is stay focused and reach for the stars."