Waimanalo awaits return of sumo star
By Ferd Lewis
Advertiser Staff Writer
And then there was one ...
The retirement of Chad Rowan (or yokozuna Akebono) leaves Fiamalu Penitani as the only active Hawai'i sumotori, the last link in a chain of contributions to the sport stretching more than 35 years.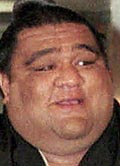 Musashimaru, or Fiamalu Penitani, the last remaining Hawai'i-born sumotori, said get-togethers were common when there were many wrestlers from Hawai'i.

Advertiser library photo • Jan. 24, 1999

When — or if — other prospects from Hawai'i will get an opportunity to follow in their zori remains to be seen in a sport where Mongolians have become the hot import.

"It will be lonely," Penitani, a Wai'anae High graduate who competes as Musashimaru, told The Advertiser in a recent interview. "There used to be plenty of the boys from back home. When Chad (leaves), it is really going to be strange.

"When there were plenty of us, we used to get together after tournaments and party, but the last couple of years there was hardly anybody left," Penitani said.

Maui's Jesse Kuhaulua blazed the trail to Japan for Hawai'i sumotori in 1964 with the first tentative steps into what would become a remarkable career of nearly 20 years in the ring and result in the first tournament title won by a foreigner.

His perseverance, personality and success were responsible for opening the door for more than 30 other local aspirants.

By the time Kuhaulua hung up his mawashi in 1983, he owned many of sumo's iron-man records and helped to bring his eventual successor, Salevaa Atisanoe, into the same stable. Atisanoe, who wrestled as Konishiki, rose to the sport's second-highest rank of ozeki, prompting other stables to scout and recruit prospects from Hawai'i. Then Kuhaulua recruited Rowan to his Azumazeki stable and still more followed.

At the height of Hawai'i's influence in 1996, there were four wrestlers — Akebono, Musashimaru, Konishiki and Yamato — in the top division of makuuchi, and 10 in the sport overall. This came at a time when some of Japan's most populated areas, such as Osaka, had only two top-division performers.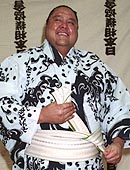 Akebono was beaming after winning the Nagoya Grand Sumo Tournament last July.

Advertiser library photo • July 21, 2000

Their success reignited the debate about the role and number of foreigners in the sport, and contributed to limits on international recruiting.

According to sumo officials, there is a 40-man cap. A man not raised in Japan must undergo a trial period of several months after which he must demonstrate ability in the Japanese language and knowledge of the customs to officially enter the sport.

Hawai'i's numbers began to decline after the Nagoya Basho in the summer of 1997. Atisanoe dropped out of the makuuchi division in September of 1997 and announced his retirement in November. George Kalima, who wrestled as Yamato before injuries and illness sidetracked his career, left in March 1998.

In recent years the focus has shifted to prospects from Mongolia, initiating what Kuhaulua said Japan's media refer to as, "the Mongol boom."