USA Today
Oh!
Or better yet, wow!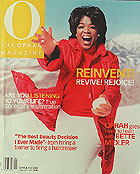 That's what the magazine industry is saying about O, Oprah Winfrey's start-up magazine, which in just eight issues has far surpassed the wildest dreams of all involved.
Some facts and figures:
Advertisers are guaranteed a circulation of 1.3 million, a figure that will go up to 1.6 million this spring. Subscriptions alone stand at 1.6 million. Newsstand sales are 1.2 million.
"So you've already got over 2.5 million people buying this magazine every month," says Debra Shriver, an executive at Hearst, the media giant that publishes the talk-show host's magazine. Some 300,000 subscriptions were given as holiday gifts alone.
By comparison, Martha Stewart Living, after almost 10 years, has 1.9 million subscribers.
The magazine, an inspirational self-help publication for women, went monthly after only two issues, and the first issues were reprinted because they sold out almost immediately. One in three of those who did pick up the inaugural issue decided to become subscribers. Magazine industry watchers say a 33 percent return is unheard of.
But the proof is always in the advertising. When Living launched in 1991, it had 226 ad pages in the first six issues, with revenues of $4.6 million. O had, in its first six issues, 905 ad pages, with revenues of $50.9 million. A well-established monthly magazine hopes to get 1,000 ad pages a year.
No one is denying that O is the most successful magazine launch in history.
"When was the last time you saw a woman's magazine that crossed over all the lines of age, race and sex — even income?" asks magazine analyst Samir Husni of the University of Mississippi.
Hearst executives are absolutely ebullient about all this. Cathie Black, head of Hearst's magazine division, says launching O with Winfrey has been "the highlight of my career in publishing. The success of O has been a thrill to anybody in magazine publishing today."
Not that O was problem-free. The early months of the start-up were rocky, with numerous staffing changes. Winfrey's hands-on style made many a New York magazine professional bristle.
"We're living in a time when celebrity sells everything. The combination of that and finding a niche, finding a way to touch American women, that emotional connection, that's the key," says Sarah Gonser, editor in chief of Folio: First Day, a semiweekly newsletter for breaking news in the magazine industry.
Gonser says people buy O for the "same reason they watch the TV show. People aspire to be better people. It's an amazing selling point. As long as she keeps in touch with what readers want and need from her, she'll succeed. If she loses that, she's lost."
Amy Gross, O's editor in chief, has no intention of straying from that.
"The test of a piece for us is 'Does it make that emotional connection?' " Gross says. "There's a real hunger out there for community and contact and genuine feeling, and I think O represents truth-telling. We don't do hype or exaggeration."
Wilma Jordan, head of the Jordan, Edmiston Group/JEGI Capital, investment bankers specializing in magazines, thinks the quality of O "resonates with the reader. . . . It speaks to the balance in a woman's life."
Jordan also believes that while Winfrey's face on every cover certainly helps sales, "if she delivered less than a quality product inside, you wouldn't have the success you have today. They have created a wonderful, wonderful magazine."
Many readers signed up because they felt they already knew Winfrey from television.
"I liked Oprah's show. So from that, I subscribed. I felt it was the same concept. It was very real. I could relate," says Deborah Farrish of New York, an avid O reader from the first issue.
"Even Oprah's interviews with celebrities, which I don't care for really — I'd prefer she talked to real people — even with them she goes to the real issue, and what makes them human. And that's important to us people just walking around buying magazines. You want to hear real people stories, inspiring stories."
It's no secret that Winfrey is a phenomenon.
"Everything she touches turns to gold. What's terrific is that this venture allows a new audience to be touched by her," says Melissa Pordy of Zenith Media, an ad buying service in New York.
With Oprah right on the cover, "the reader knows the journalism they're going to encounter inside."
Advertisers, of course, are clamoring to be in the magazine, Pordy says, because Winfrey's following is "so loyal and passionate."
Oprah's success comes at a time when the magazine industry is experiencing slow growth in advertising.
B. Smith Style, for instance, died late last year, a victim of weak ad sales and corporation infighting. Hopes are higher for a new magazine from Rosie O'Donnellk, set to launch in May.
So how long can the glow remain on O?
"As long as Oprah is living, she can keep it going," Husni says. "It will never and can never be anyone else's. That's the sword with two edges. It will carry on, as long as Oprah is carrying the sword. No one can replace her magnetism."
"I think as long as women are interested in living better, and living their best lives, this magazine will have something to say to them," Gross says.