By Ann M. Sato
Special to The Advertiser
"K. HELEN KAPILILANI SANBORN DAVIS, Reminiscences of a Life in the Islands," by Helen K.S. Davis with Maili Yardley, hardback, $21.95
Helen Kapililani Sanborn Davis' Hawaiian name means "close to heaven," and reading this as-told-to biography you have a sense that she has, indeed, lived a blessed life.

Youngsters Helen and Walter get a wheelbarrow ride from a nursemaid on the back lawn of their Hanalei home.

Davis family photo

There has been pain, as in any life — a temporary estrangement from her father, the sudden death of a young daughter, the devastation of the Davis ranch at Wawamalu by the 1946 tidal wave, widowhood. But the overall impression in this book is of a gracious life lived in gracious times; I was reminded of a line from Edith Wharton's "The Age of Innocence" in which a woman is described as having lived without ever having needed to acknowledge how profoundly the world had changed.

Former Advertiser columnist Maili Yardley was Davis' partner in this self-published project; the two have been friends for years. They conducted this enterprise, originally meant merely as a remembrance for Davis' children and grandchildren, as charmingly as everything else appears to be managed in the Davis milieu. Davis would fly over to Kaua'i, where Yardley lives, the two would sit down for a long chat, and then Yardley would write up the conversation and they'd move on in the next outing.

"It was all so interesting and, since I had been living in those days, too, I had empathy," said Yardley, who is 84, author of several books and tackling yet another writing project.

The book, punctuated with well-selected photos from throughout Davis' long life, brought back a rich flood of memories for Yardley, as it will do for any kama'aina in their latter years, especially those who have lived a life of privilege.

This is the Hawai'i of hapa-haole families who lived in the sprawling homes we now sing songs about, who knew each other and visited each other and married each other, who counted their Hawaiian ranch hands as friends and their Japanese maids as family, descendants of missionaries and merchants who would steer the

Islands' political and civic course with a firm hand through the early years of the 20th century. It is a Hawai'i that lives rather under a shadow in these consciousness-raised days. But no hint of that shadow intrudes on the story Yardley and Davis have to tell.

"They were such happy times," said Yardley. "We have to keep this Hawai'i going."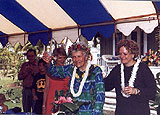 At her birthday party in 1997, the 90-year-old Helen Davis raised her glass in a toast to her family.

Family photo

The widow of the late Big Five executive, rancher and farmer Alan Sanford Davis appears never to have been without household help, never to have known privation. But a story also emerges of a well-liked, respected and industrious woman, active in social causes, including the protection of animals and the beautification of the Islands, who to this day maintains a busy social schedule and remains supportive of projects designed to preserve the Hawai'i she loves.

The book, beautifully designed by Barbara Pope, begins with Davis' childhood in Hanalei, Kaua'i, where her father was a manager of the Princeville Plantation. They lived in Mauka House, tucked into a bend in the Hanalei River, and the life, though it had its physical hardships and daily chores, seems to have been an idyll of horseback riding, beach picnics, long visits to relatives and friends, fishing for mullet in the old Hawaiian way, with traps made of honohono grass, hosting grand lu'au for which all the food was harvested from the land and sea around them.

Indeed, Davis seems never to have lived anywhere that wasn't idyllic: Her first home as a married woman was on a ranch along the Ka 'Iwi coastline near Sandy Beach. Afterward, the Davises moved to a sprawling, garden-surrounded home they named M¯hala, at the top of Wilder Avenue. Later, the same house with its high, Hawaiian-style ceilings would be moved to a large property amid the pineapple fields at Waipi'o on O'ahu, which became a center for her Garden Club activities. Now she lives on Diamond Head.

As is often the case with historical biography, the fascination for a stranger lies not in the minutiae of Davis' family life but in the little things we learn about the way life used to be. There isn't much voice here; Yardley said Davis preferred the distancing use of the third person. (In 1998, when Scenic Hawaii recognized her for her work with the Outdoor Circle and the Garden Club, she demurred, wondering why they had to honor her.)

But one thing shines through: Davis' love of the Islands. Writes Yardley: "Davis has always maintained that being born and raised in Hawai'i was the luckiest thing that ever happened to her."
---
Correction: Edith Wharton was the author of "The Age of Innocence." Because of a reporter's error, incorrect information was contained in a previously posted version of this story.