Audio of statement by son Jonathan Chaplan (Real Player plug-in required)

Where to send contributions


By Dan Nakaso
Advertiser Staff Writer
With a view of Diamond Head in the background and the sound of children playing in the surf below, Jonathan Chaplan found himself yesterday talking about the care given his father before he died and the comfort that people have offered his mother.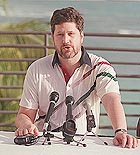 Jonathan Chaplan yesterday described how plans for an 80th birthday celebration ended with the tragic death of his father.

Eugene Tanner • The Honolulu Advertiser

His father, Norman Chaplan, had planned to bring his wife, Lucille, to Hawai'i some 4,600 miles from their home in Canada. It was Lucille's 80th birthday and she didn't want a big party back home, Jonathan Chaplan said.

"It was a special trip for them to go that far," he said. "They had some extra money and they decided to use it for this trip."

As Lucille Chaplan checked in to the 'Ohana Waikiki West hotel in the early hours of Tuesday, her husband was beaten on the head more than three times with a rock in the lobby bathroom and robbed of his wallet.

After the murder, Jonathan Chaplan, 42, flew to Honolulu to be with his mother. He would not talk about the police investigation yesterday.

Norman Chaplan, 81, was born and raised in Toronto. He met his wife when they were both teenagers; their marriage lasted more than 50 years.

He was a salesman — moving a variety of merchandise, his son said — before he and Lucille Chaplan retired to a condominium in Richmond Hill, a suburb north of Toronto.

Neighbors reached at the condominium complex yesterday said the family did not want them to speak to the media and declined to identify themselves. But they said Norman Chaplan was a jovial-but-quiet neighbor.

"He was a very, very nice man," one woman said.

Jonathan Chaplan described his father as gregarious, the kind of person who stepped into a room and got to know everyone quickly. "He was always smiling and joking around," he said.

The Chaplans had a son and daughter and two grandchildren and had once visited the Islands before in the late 1970s, Jonathan Chaplan said.

Norman and Lucille Chaplan were checking in to their hotel at 1:11 a.m. when Norman Chaplan went to the bathroom and was attacked. He was treated at the Queen's Medical Center, where he died Thursday.

The Visitor Aloha Society of Hawai'i and Outrigger Hotels and Resorts have been helping the family with food and lodging and other needs.

Yesterday, Jonathan Chaplan sat on the lana'i of an ocean-view suite and thanked the people of Honolulu.

"We will always remember the kindness and help that was offered to us at every turn," he said. "Our special thanks to the staff at the neurological unit of the Queen's Medical Center, who gave my father round-the-clock professional, compassionate care. My mother says the whole unit provided a warmth that she will never forget."

The family is not sure how long they will stay in Hawai'i. They plan to bury Norman Chaplan back home.
Where to send contributions
Contributions to the family of 81-year-old Canadian tourist Norman Chaplan, who died yesterday after being beaten in a Waikiki hotel restroom early Tuesday, may be sent to "Friends of the Chaplan Family" at any Bank of Hawai'i branch.
Checks also may be mailed to Bank of Hawai'i, Waikiki branch, 2228 Kalakaua Ave., Honolulu, HI 96815.