Advertiser Staff
A fire blamed on an unattended candle caused an estimated $20,000 damage to a Kinau Street apartment building early yesterday.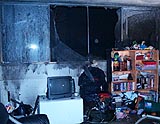 Fire Department officials estimated $20,000 damage to an apartment building on Kinau Street from a fire early yesterday. No one was injured in the fire, which was blamed on a candle.

Honolulu Fire Department

A 19-year-old woman, her 11-year-old brother and a puppy escaped from the third-floor, one-bedroom apartment when the blaze broke out about 1 a.m., said Capt. Richard Soo of the Honolulu Fire Department.

The woman said she returned to the living room from her kitchen and saw that the curtains, which had been fluttering near the candle, were on fire.

Firefighters evacuated the third and fourth floors of the apartment building at 1040 Kinau St. and had the blaze extinguished less than 10 minutes after receiving the alarm.

Soo said that when the 18 firefighters arrived a neighbor had begun to combat the blaze with the hose from the building's fire cabinet.

The damage to the apartment forced the woman and her 20-year-old fiance to return to their family homes.